Korantina Homes: Triple Win at the 2023 Luxury Lifestyle Awards
08:26 - 05 May 2023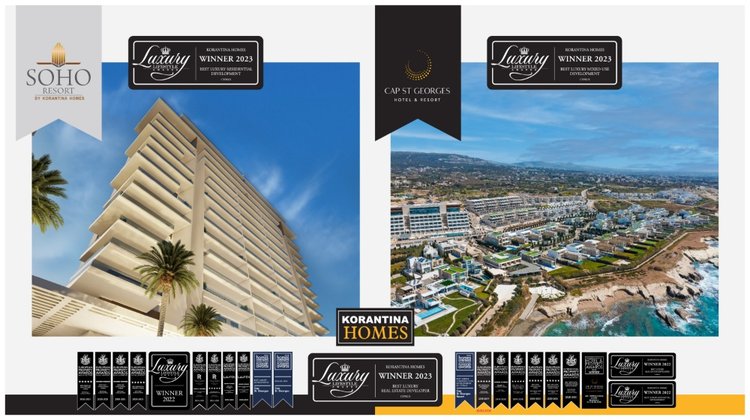 Korantina Homes has won three awards at the 2023 Luxury Lifestyle Awards (LLA), claiming the titles of Best Luxury Real Estate Developer in Cyprus, Best Luxury Residential Development for Soho Resort in Cyprus, and Best Luxury Mixed-Use Development for Cap St Georges Hotel & Resort in Cyprus.
"This is the second year in a row that Korantina Homes has been honoured by the LLA, and we are proud to see the company's commitment to luxury and innovation continue to be recognised by industry experts," the company said.
Korantina Homes is a luxury real estate developer based in Cyprus, and the company is known for its high-end properties, sophisticated designs, and exceptional customer service. The company's portfolio includes residential resorts, commercial developments, and mixed-use developments that showcase the best of contemporary architecture, technology, and lifestyle.
"Soho Resort (in Paphos), which won the Best Luxury Residential Development award, is a prime example of Korantina Homes' commitment to excellence," said the company. The resort features a range of luxury villas and apartments, with private pools, gardens, and panoramic views of the Mediterranean Sea. The resort also includes world-class amenities such as a spa, fitness centre, tennis court, and gourmet restaurants.
Cap St Georges Hotel & Resort in Paphos, which won the Best Luxury Mixed-Use Development award, is according to Korantina Homes "a masterpiece of luxury and versatility". The development comprises a five-star hotel, luxury villas, and commercial spaces, while its prime location, just a few steps from the sea, adds to its appeal and makes it a sought-after destination for both international and local investors.
"Korantina Homes' success at the 2023 LLA is a testament to the company's unwavering dedication to quality, creativity, and customer satisfaction," it said. "As a leading luxury real estate developer in Cyprus, the company has set a new standard of excellence in the industry, and we are confident that it will continue to impress and inspire its clients and partners."
Learn more about Korantina Homes and its award-winning projects here