Infocredit Group sponsors First Legal Forum, EU – EASTERN PARTNERSHIP 2023
13:05 - 26 May 2023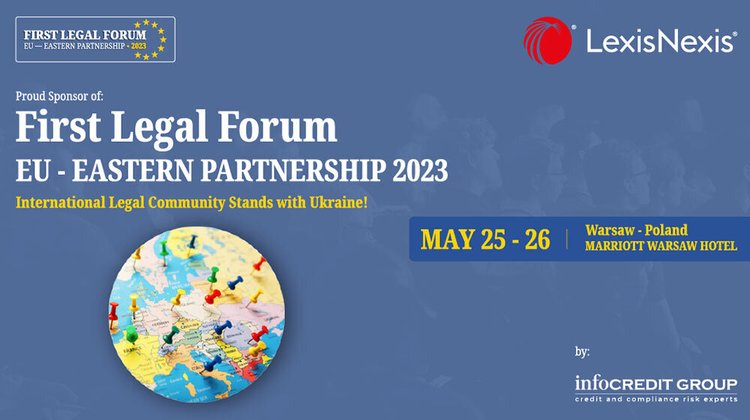 Infocredit Group has announced it is proud to be amongst the sponsors of the First Legal Forum, EU – EASTERN PARTNERSHIP 2023.
The event, organised by the esteemed Global Law Hub, is taking place at the prestigious Marriott Warsaw Hotel in Warsaw, Poland on 25-26 May, a relevant press release notes.
According to the announcement, the First Legal Forum, EU – EASTER N PARTNERSHIP 2023, successfully accomplished its objective of uniting legal experts and driving economic transformation. Launched in 2022, this cutting-edge communication platform facilitated constructive dialogues among law firm partners, heads of legal departments, and business development specialists. The forum brought together esteemed legal professionals from leading law firms across Europe, Asia, and the Caucasus, alongside renowned international lawyers, domestic legal department heads, experts in business development, PR and legal marketing professionals, and finance and ratings specialists.
Infocredit Group's Business Growth Director, Loukis Tapakis, and International Sales Officer, Sharpel Petri, attended the First Legal Forum, EU – EASTERN PARTNERSHIP 2023. Visitors to Infocredit's Group booth had the opportunity to explore exclusive offers, acquire free trial codes for our comprehensive legal databases, and engage in fruitful discussions with our knowledgeable representatives.
Infocredit Group, as an official strategic partner of Lexis Nexis Solutions in numerous jurisdictions, including Poland, Malta, Czech Republic, Slovakia, Lithuania, Greece, Cyprus, Romania etc. will be showcasing the LexisNexis Legal Solutions, including the widely known Legal Research and Intelligence Platforms
According to the company, Lexis® PSL - provides comprehensive resources for 36 areas of practice so you can rest assured you'll have everything you need: practice notes, news, contract templates with drafting notes, key resources, and toolkit. Lexis® Library - provides access to the largest collection of UK, EU, and International law and gives quick and comprehensive access to up-to-date legislation, case law and commentary, book and more.
As a proud sponsor of this event, Infocredit Group remains committed to supporting the legal community by delivering innovative solutions that address credit risk mitigation and foster strategic growth, the company's announcement says.