Nicosia looks forward to holding the next 3+1 meeting in 2023, Minister says
13:23 - 25 May 2023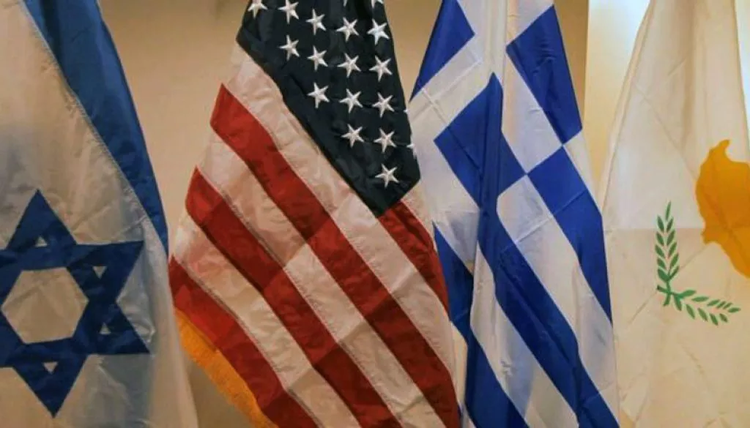 Nicosia is looking forward to holding the next political level 3+1 (Cyprus, Greece, Israel + USA) meeting before the end of the year, Defence Minister, Michalis Giorgallas, has said, adding that Cyprus also plans to host the 9th Cyprus, Greece and Israel Trilateral Summit this year.
Giorgallas was speaking during a 24 May reception hosted by the Embassy of Israel on the occasion of the country's 75th independence anniversary. The Ambassador of Israel to Cyprus, Oren Anolik, stressed in his speech that there is a deep strategic alliance between his country and Cyprus.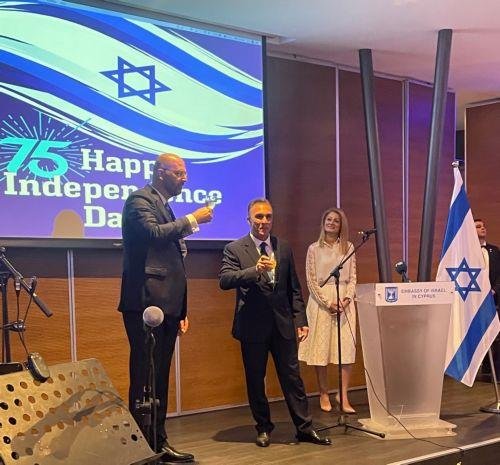 Speaking during the reception, attended, among others, by Ministers, foreign and Cypriot diplomats and other officials, the Defence Minister noted that "Cypriots have vivid memories of the beginnings of Israel's 75-year journey, as Cyprus became a place of internment for 53,000 Shoah survivors on their way to their Homeland, after the end of the Second World War."
He said that after Cyprus gained its own independence, diplomatic relations were established immediately with Israel.
"Our historical connections, geographic proximity, and shared values have formed a deep bond between us," Giorgallas added.
He went on to say that "especially in the last decade, our partnership has widened to embrace numerous sectors such as energy, defense, tourism, cybersecurity, business, and innovation."
"Both our countries have invested significant political capital in cultivating our prolific ties and fostering a partnership of strategic choice," the Minister said.
He noted that "the working visit of President Christodoulides to Israel two weeks ago, in one of his first trips abroad, and at a particularly trying time, is a tangible indication of the priority attached to our robust bilateral relations and our strong commitment to further advance our strategic cooperation."
Giorgallas said that "this strategic essence was also reflected during the recent visit of Defense Minister (of Israel) Gallant whom I had the pleasure to host at the beginning of May, as part of the continuous engagement through our robust defense partnership, with our focus being none other than a secure, stable, and prosperous future for our region."
He stressed that "our collaboration has impressively reached new heights in the regional context as well, something which is evident through our Trilateral platform with Greece."
The Defence Minister said that "we have recently renewed our commitment to this format via hosting the Trilateral Meeting of Foreign Affairs in Nicosia, while President Christodoulides has extended an invite to Prime Minister Netanyahu to the 9th Trilateral Summit, which Nicosia plans to host later in 2023."
He went on to say that "our trilateral has indeed set an example of regional collaboration and has evolved to project concrete benefits for our countries and peoples, through a range of domains, spearheaded through our energy cooperation and the prospects it creates."
The Minister noted that "this is more critical considering the unprovoked Russian aggression in Ukraine and the need for energy diversification and increased interconnectivity, which brings into focus the development of a reliable energy corridor from the Eastern Mediterranean basin to Europe."
He added that "the positive geopolitical impact of this format, as you all know, has led to the 3+1 framework with the US, and proceeds with cooperation on areas such as energy, emergency response, climate change, cyber security, as well as the parliamentary track, reflecting the diversity of our shared objectives and interests in the region."
"We look forward to holding the next political level 3+1 meeting before the end of the year," Giorgallas said.
Moreover, he noted that they have identified "the possibility of including other countries in our neighborhood in our cooperation, countries that share that peace, stability, and security is the most valuable strategic asset."
The Defence Minister also stressed that Cyprus stands ready to join Israel and other partners, in regional multilateralism platforms, "through which we can multiply the security and stability index of our wider neighborhood."
On his part, Ambassador Oren Anolik referred to the recent visit which Cyprus President Nikos Christodoulides paid to Israel, noting that the visit took place during days in which Israeli citizens were under attack.
"The support and solidarity expressed by the President in this visit were well received and appreciated by Israel's leadership and people," Anolik said.
He added that this visit was not merely a symbol of diplomatic ties, but a reaffirmation of the deep strategic alliance between the two countries.
The Israeli Ambassador expressed heartfelt appreciation "to all those whose contribution helped bringing us to the current level of friendship," adding that he is filled with optimism "for the future of our alliance."
(Source: CNA)