Mohammed Al Qassim: Cyprus has always been a strategic market for Emirates
07:23 - 25 May 2023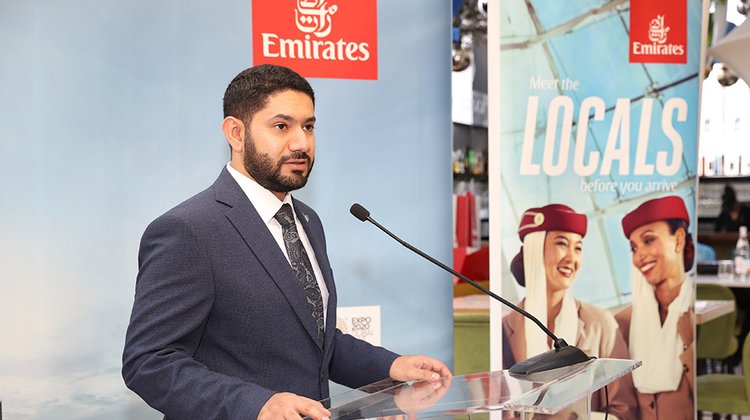 The Country Manager of Emirates in Cyprus, Mohammed Al Qassim, talks about the airline's strong presence on the island and shares his predictions for air travel and tourism in the upcoming summer season.
As country manager of Cyprus, can you tell us more about the island's contribution to Emirates' services?
Being Cyprus's Country Manager is an honour, our goal is to keep the relationship and connections between Dubai and Cyprus strong and sustainable, as we are both international hubs of business, and finance, and at the crossroads between continents.
Cyprus has always been a strategic market for Emirates, and the continuous growth of our operations reaffirms our commitment to supporting the local market with all the means at our disposal.
Our daily flights offer Cypriot passengers more choices for connectivity to their favourite holiday destinations, such as Dubai, Australia, Mauritius and Thailand. In addition, our international passengers also benefit from the increased connectivity to Cyprus.
Stakeholder efforts are underway to improve Cyprus' connectivity. Will Emirates be contributing to these efforts? Are there any future plans you can reveal to us regarding additional routes, services etc. involving Cyprus?
Emirates has a strong presence in Cyprus, offering daily flights between Larnaca and Dubai, as well as a dynamic cargo network which carries over 200 tonnes of cargo to and from Cyprus on a monthly basis. Being the largest capacity carrier in Cyprus aviation market and ensuring the excellence of service all over the journey.
With the daily service of its Dubai-Larnaca route, Emirates continues to support the growth and recovery of the local community, connecting Cyprus with Dubai and onwards to more than 130 global destinations, generating more trade and tourism opportunities.
To achieve this, Emirates serves Cyprus with a wide-body aircraft all year round, with a capacity greater than 20,000 seats per month.
Our promise to our Cypriot customers remains unchanged from the first day we started our operation, in 1994. The constant pursuit of innovation and the logic of "be better" is embedded in the DNA of Emirates and motivates us to offer travel experiences based on comfort, which are accessible to our passengers across all cabin classes.
Likewise, are there any plans you can reveal regarding Emirates as a whole, for example, new routes, products, aircraft etc.?
Emirates currently serves passengers across six continents and operates the world's largest fleet of wide-body Boeing 777 and Airbus A380 aircraft, offering spacious cabins and iconic inflight features such as its A380 On-board Lounge and Shower Spa.
Passengers also enjoy the warm hospitality of the airline's multinational cabin crew –a team of professionals from more than 160 nationalities–, regionally inspired gourmet cuisine, as well as the award-winning inflight entertainment system ice, offering more than 5,000 channels of the best movies, TV shows, live TV, podcasts and music.
Emirates, aiming to effectively meet the increased leisure travel demand over the upcoming summer season, proceeds to further strengthen its route map globally. Since the start of its financial year, Emirates has boosted its capacity by 31%, at global level, measured in Available Seats per Kilometre (ASKM). The airline's strategic plan foresees a further increase in seat capacity, based on its latest published summer schedule.
As the world's travel industry begins to bounce back from the consequences of the pandemic, do you believe some of the changes made during this period remain permanent for airlines and the wider travel sector? If yes, which ones? How has Emirates been impacted?
The safety and wellbeing of our customers has always been our top priority. Since the onset of the pandemic, we have implemented innovative health and safety measures. A comprehensive set of security measures at every customer touchpoint.
We integrated contactless payment technology, including self check-in kiosks, biometric path at Dubai Airport and digital inflight menus. Today, 36 self check-in kiosks and 16 self bag-drop kiosks are available for passengers flying with Emirates at Dubai International Airport.
At the same time, we provide a safer and healthier environment within our aircraft, as they are all fitted with HEPA cabin air filters, which are proven to filter out 99.97% of viruses and remove dust, allergens and microbes from the air recirculated into the cabin.
Passengers departing from Dubai International Airport are provided with the option to drop off their bags at the airport 24 hours prior to flight departure to avoid queues and crowds. Moreover, First Class passengers can use the Home Check-in service, which allows them to enjoy their day while Emirates Check-in Agents visit their hotel or residence in Dubai or Sharjah to collect their luggage and complete all check-in formalities. The service is also provided to regular customers who can avail it by booking and paying at least 24 hours before scheduled departure time.
All Emirates passengers can also plan their whole travel experience remotely with the Emirates app, which allows users to: book and manage their flight, download a digital boarding pass, choose their inflight meals, book Chauffeur-drive service, and even choose and tailor in advance the movies to watch during the flight. By planning ahead, passenger queues at check-in will be reduced, further enhancing the overall safety of the public.
All these innovations were part of our effort to provide a safer and healthier journey on our flights. Services that have significantly enhanced our customers' travel experience.
What are your predictions for the upcoming summer season, for Emirates and for the industry in general?
Very positive, as we see the market starting to recover significantly. At Emirates, we experience a bounceback of our activities to pre-pandemic levels, reaffirming our commitment to supporting the market's growth and recovery.
Emirates flies to over than 140 destinations on six continents and currently operates 7 weekly flights from Larnaca to Dubai and Malta, generating more trade and tourism opportunities. The airline serves Cyprus with a wide-body aircraft all year round, with a capacity greater than 20,000 seats per month, facilitating increased inbound traffic from key markets across its global network, further boosting the national travel and tourism sector. Our daily flights offer Cypriot passengers more choice and connectivity to their favourite holiday destinations, such as Dubai, Australia, the Indian Ocean Islands, Far East, the USA and Malta. International passengers will also benefit from the increased connectivity to Cyprus.
In this context, we believe that this year there will be an increased flow of tourists to Cyprus, as well as an increase in the number of passengers who will choose to fly with Emirates for their holidays.