YOUTHShare: Develop skills and boost your employability
12:23 - 24 May 2023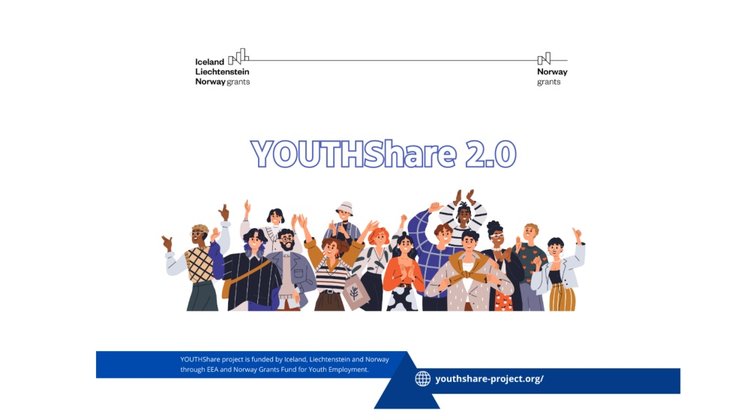 YOUTHShare has announced the launch of its highly anticipated training programme, which aims to equip young individuals with the necessary knowledge and skills to thrive in the evolving landscape of the social, sharing, and circular economy.
The programme is conducted in English and will run for two weeks, starting 19 June 2023. The participants have the option to choose between morning and afternoon sessions that will run Monday to Friday or Saturday.
"It has been regarded that youth often struggle to integrate in the labour market and make the most of the opportunities that arise in the continuously shifting employment marketplace," said YOUTHShare. "They come across a wide array of challenges as they are continuously in need to build up and expand their skills to both cope with the rising demands of employers and make the most of the new sectors and industries that have arisen in recent years. The YOUTHShare project, funded by Iceland, Liechtenstein and Norway through the EEA and Norway Grants Fund for Youth Employment and implemented by CARDET, is designed to tackle these difficulties, help them build up their skills for the new economy and boost their employability and capacity to succeed."
Specifically, YOUTHShare 2.0 aims to create new employment opportunities for young individuals to better match their skillset with the market expectations. To better address these, YOUTHShare's training course encompasses a comprehensive curriculum that covers a wide range of topics, including soft skills development, understanding labour markets and new forms of employment, developing business skills, and acquiring skills for the new economy.
Besides having the opportunity to participate in various sessions, the participants will also have the chance to take part in open discussions and share opinions with their peers and trainees. The training is separated into 3 distinct modules, each focusing on their area:
Understanding labour markets and the new forms of economy
Developing business skills
Developing skills for the new economy
To register for the YOUTHShare training programme, interested participants are invited to complete the registration form here.
For more information about the YouthShare initiative, please visit the website or follow on Facebook for more news and updates.