Direct USA-Cyprus flights 'possible within two years' as three US airlines show potential interest
Marios Roussos 08:36 - 24 May 2023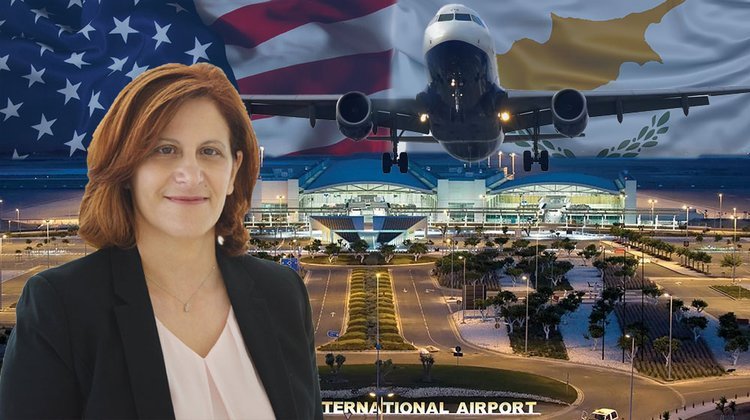 There appears to be increased interest from major US airlines for direct flights to and from Cyprus, with such a route, according to the messages received by Hermes Airports, possibly becoming a reality within the next two years.
Hermes Airports manages and controls Larnaka International Airport and Pafos International Airport.
The issue of a direct air connection between Cyprus and the USA was raised in a recent article by InBusinessNews, with the Deputy Ministry of Tourism confirming that efforts are being made in this direction and highlighting insufficient demand as a deterrent for airlines despite their interest.
Gaps towards Europe
The most interesting and recent news regarding the possible Cyprus-US air connection, however, comes from the Routes Europe 2023 aviation event, which took place in Poland at the beginning of May.
Hermes Airports was also present at the conference with Maria Kouroupi, the company's Senior Director of Aviation Development, Marketing & Communication, revealing to InBusinessNews, the messages that came out of the discussions with major airlines there.
"Routes Europe conferences are held annually as a meeting point for airports and airlines. We had meetings with 23 companies. Some already fly to and from Cyprus. Some are airlines that we aim to convince to launch flights," said Kouroupi said.
Some of the issues discussed between Hermes Airports and the airlines and other entities are the extension of the tourist season of Cyprus in the winter, but also the... gaps that exist towards some European destinations, she continued.
"What many companies proposed is that the tourist product of Cyprus should be highlighted beyond the sun and the sea, in order to develop demand during the winter months, which is also consistent with sustainable development goals.
As for companies that do not fly to Cyprus, they mainly concern destinations that are not served at the moment, such as for example Spain or Brussels. The discussions concern the summer of 2024, Kouroupi pointed out.
USA connection within two year
And somewhere here, the possibility of an air connection between Cyprus and a US State enters the discussion. Either directly, or for our country to function as a transit destination.
During the discussions at Routes Europe 2023, as Kouroupi revealed, three airlines that could adopt such a route showed increased interest. However, there is still a long way to go as demand is not yet at the desired levels.
"We met with three companies that could potentially operate such itineraries. There are 2-3 conditions to achieve this project. The next serious expansion of the companies in Europe will take place in 2025. So, we have a window of about two years or so," Kouroupi explained.
Discussions and contacts seem to be ongoing, as the US-Cyprus route is high on the agenda. For this reason, Hermes Airports is in discussion with companies that operate flights to neighboring countries, such as Israel and Jordan.
"We have to see how we can move ahead and how demand will build. We have two years ahead of us to build and convince companies that there is demand. It seems that there is enough interest from the airlines", she emphasised.
The conditions
Explaining the data so far, Kouroupi noted that there are several factors that will determine the implementation of the project. Firstly, the airlines that will undertake the route must have suitable and available aircraft that can fly such distances.
The second and main thing that the airlines are taking into consideration, in order to be able to offer this type of route, is demand for flights from the USA to Cyprus, which at this stage is not satisfactory.
One option to increase demand is to operate Cyprus as a transit station and join a route that will end in a neighboring country, such as Israel or Jordan for example, which although they already have direct flights to/from the USA, also have a large number of travelers coming via other destinations such as Istanbul.
Contacts need to be made in the US, both with tour operators and other specialist tour operators to the Middle East and Mediterranean, as well as with diaspora business groups and agencies and others, so that there is a concerted effort to assess potential demand.
"America is a project that needs a lot of work, but it could be implemented under the right conditions," Kouroupi concluded.
(Source: InBusinessNews)