STEP Cyprus Conference and Gala Dinner
Sponsored Article 13:32 - 02 May 2023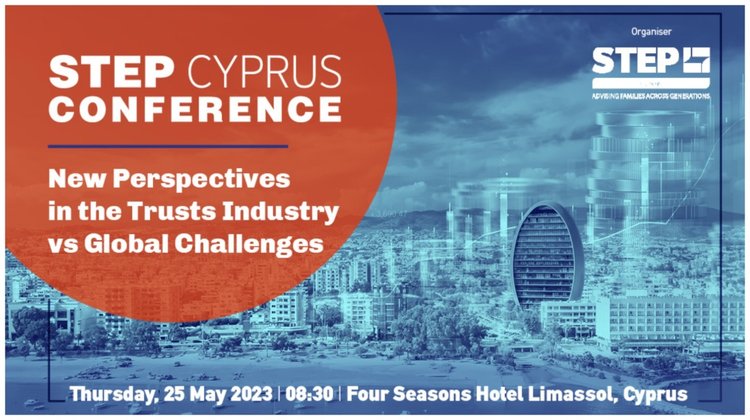 The Society of Trusts and Estate Practitioners (Cyprus) Ltd ("STEP Cyprus"), a professional association of practitioners specialising in trusts and estate planning, has announced that it will be hosting the annual STEP Cyprus Conference and a Gala Dinner on 24-25 May 2023 at the Four Seasons Hotel in Limassol, Cyprus. The event will begin with a Gala Dinner on 24 May 2023 to celebrate the 20-year anniversary of STEP Cyprus, followed by a full-day Conference on 25 May 2023.
The Conference will feature discussions on a variety of topics relevant to the trust and estate industry, including fiduciary responsibilities, non-domiciled status, wills, trusts, and succession, trusts in Greece, and the comparison between Cyprus Local Trusts and Cyprus International Trusts. There will also be discussions on emerging issues such as crypto and digital assets and the role of life insurance solutions in trust planning.
Featured Speakers include:
Paolo Panico, Chairman, STEP Europe
Stella Kammitsi, Chairwoman, STEP Cyprus, Managing Director, Raza Corporate Services Ltd
Nicky Xenofontos, Advocate, Managing Partner, TEP
Sergei Alimirzoev, Senior Partner, AT Law Firm
Katya Vagner, Senior Associate, Fladgate LLP
Evi Papacleovoulou, Advocate at Law, Arbitrator, Mediator, Commissioner of Oaths, Sessional Lecturer University of Cyprus
Judith Taic, Dr. Jur., LLM Taxation (NYU), TEP, Director, Dr. Judith Taic Law Office
Jonathan Riley, Partner, Fladgate LLP
Tomasz Piejak, Attorney at law
Simon Gorbutt, TEP Dip IoD, Director, Head of Wealth Planning, Lombard International Assurance S.A.
Panicos Loizou, Member, STEP Cyprus
Petros Chr. Fatouros, LL.M, TEP, Managing Partner, Phi Lambda Law Firm
Angeliki Miliakou, Senior Associate, Kyriakides Georgopoulos Law Firm
Emily Yiolitis, Partner, Chief Executive Officer, Anemi Trustees Limited
Andreas Kazamias, Management Consultant, Platanus Services Ltd
Irénée Dondjio, MBA, MSc. PhD., Senior Lecturer, The Hague University of Applied Sciences
Rocco Impecora, Senior Legal Specialist, STORM Partners
Caroline Bennett-Akkaya, Partner, 1291 Group Geneva Limited
Pantelis Christofides, Advocate – Director, Head EU and Regulatory Law Department, L. PAPAPHILIPPOU & CO LLC Advocates & Legal Consultants
Dr. Johanna Niegel, TEP, Vice Director, Allgemeines Treuunternehmen (ATU)
Prof. Dr. István Sándor, Professor of Law, Faculty of Law of Eötvös Loránd University
Filippo Noseda, Partner, Mishcon de Reya, Visiting Professor, King's College London
Paul Verhaeghe, Lawyer, Member of Board of Directors, Belgian Association of Tax Lawyers
The Conference will be conducted in English and full participation at the Conference corresponds to up to 6 CPD units of the Cyprus Bar Association.
For more information, click here.
Organiser: STEP Cyprus
Gold Sponsor: Pourgoura & Aspri LLC
Silver Sponsors: Fairwinds International Bank LLC, IQEQ Cyprus Ltd
Dinner Sponsor: 1291 Group
Stationery Sponsor: Michael Kyprianou Advocates & Legal Consultants
Coordinator: IMH