Metropolis Mall at Larnaca joins Ablebook platform
10:39 - 15 May 2023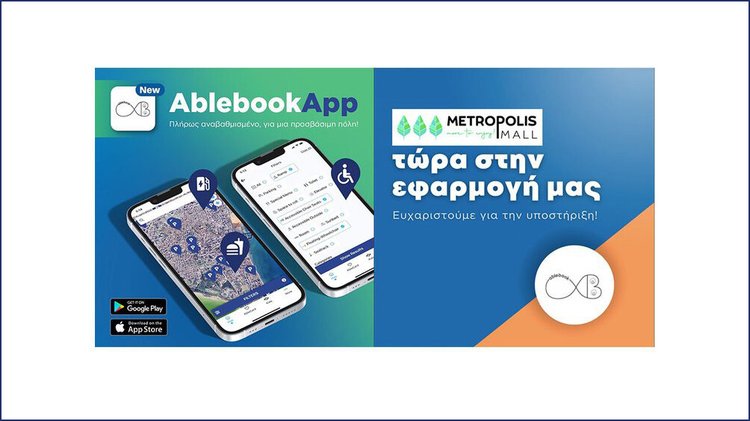 Ablebook, an online platform which provides services and information on accessibility and more for people with disabilities and vulnerable groups, has entered into a new cooperation with Metropolis Mall at Larnaca.
Now, visitors to the mall will be able to use the Ablebook app to improve their experience. The app includes smart path creation and planning tools, informing individuals with any sort of disability of places around Cyprus with easy access and use.
Metropolis Mall was designed with disabled access and navigation in the Mall in mind. Parking spaces are already available near the entrances for people with disabilities, while ramps and elevators, and wheelchairs are available for their easier movement inside the store. In addition, there are accessible toilets for people with disabilities. Restaurants also offer vegan options to accommodate those with dietary restrictions and there are accessible ATMs to make it easier for people with disabilities to withdraw cash.
Through the new cooperation with Ablebook, however, users of the application who visit the Metropolis Mall will be able to better pinpoint where the necessary accesses for them are located within the mall. Also, in the event that they require some help, they will be able to contact competent people at the mall. As a result, everyone, without exception, will be able to more easily do their shopping and enjoy their coffee or food at the mall.
Ablebook provides interactive maps that allows users to select the location they want to head to, with more advanced options available. Users can see the available accessibility facilities at each location via photos, as well as navigate to and contact businesses. In addition, users can report problems they face in a certain area by contacting Ablenbook directly. There are over 1,000 locations that show their facilities for people with disabilities as well as all public parking spaces for people with disabilities throughout Cyprus.
A second feature of the application is Ablecard, a membership card exclusively for people with disabilities where businesses located within the application provide additional benefits such as discounts.
There is also a Kids section which provides information on accessible places where children with disabilities can play sports, including such as parks, gyms, sports teams/academies, nature trails and more.
Another available feature is the Ablebook Portal. Through the Ablebook Portal, businesses as well as municipal bodies have the ability to manage their locations in the application, change the content, hours of operation and photos, etc. Ablebook, has noted that it always confirms changes to facilities, to ensure that the appropriate specifications are followed.
The application, with its digital services, focuses on improving the accessibility of urban services, with the aim of integrating and including people with disabilities in the urban environment and society, Ablebook says.