Under-construction Paralimni Marina anticipated to be magnet for investors
07:15 - 15 May 2023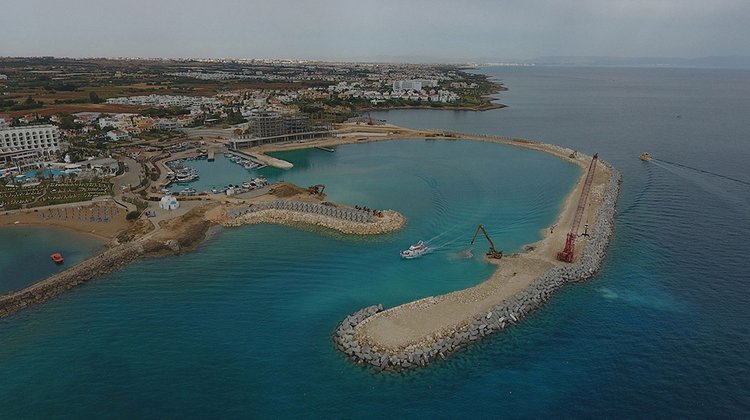 Just one year since the start of work on Paralimni Marina, the construction and armoring of the outer front of the windward arm of the marina, as well as its leeward arm, have been completed.
As reported by InBusinessNews, the windward arm is 500 meters long and the leeward arm is 100 meters long. The building that will house the government services and the Paralimni Marina fuel station will be constructed on the latter.
The outer layer consists of 3280 pre-fabricated Accropodes Type 1 elements, with a volume of 5 cubic meters and 6.2 cubic meters.
With the protection of the port basin completed, PMV Maritime Holdings Ltd, the owner of the project, is now proceeding toward the implementation of the internal piers, with a timetable for their completion set for the Summer of 2024.
The construction site operates without break throughout the year, on a twelve-hour for day basis.
PMV Maritime Holdings Ltd has already managed to attract prestigious international companies such as Armani and the Ferretti Group, as well as some of the most well-known and successful Cypriot companies, to the commercial section of the Marina. The commercial units of the project have already been allocated. The two- and three-bedroom residential units of the first phase of the project are also sold out.
The Marina, which will have 300 berths, has so far - 15 months before its anticipated opening- received more than 500 applications via the online application process.
The project aspires to exceed the expectations of the state's proclamation for a Marina of "international standards and upgrade the tourism product of the area". More detailed announcements as to the services and quality it will offer to visitors are anticipated over the coming months.
(Source: InBusinessNews)