Learn more about Computer Science and AI studies in JetBrains livestream on 14 May
10:54 - 12 May 2023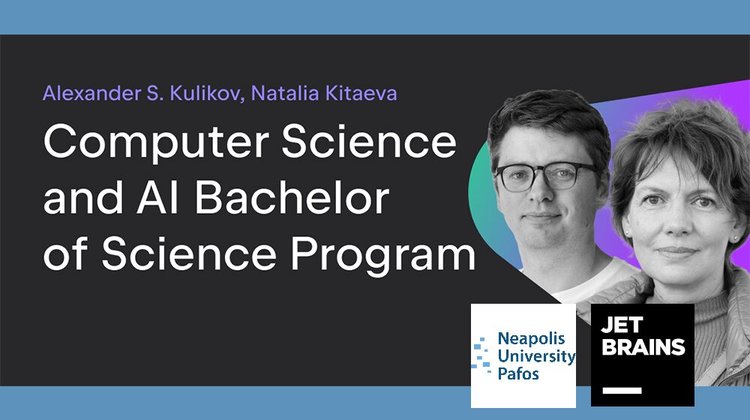 With offices in Cyprus and clients around the world, software development company JetBrains has invited prospective students to watch a Sunday, 14 May free livestream on a bachelor's programme offered at Neapolis University Pafos in collaboration with the company.
In a relevant announcement, JetBrains says, "Join us this Sunday, 14 May, 9:00 am UTC (12:00 pm EEST), for the free Computer Science and Artificial Intelligence Program livestream." The 12:00 pm EEST refers to the time in Cyprus.
"You'll learn about how our new bachelor's program at Neapolis University Pafos in Cyprus can help you get closer to a future tech career. Students who graduate from bachelor's and master's programs developed in collaboration with JetBrains work at top IT companies like Meta, Google, and JetBrains, so don't miss your chance to join the team," JetBrains said.
Prospective students can register for the livestream by filling out a relevant Google form, and JetBrains will then send them an email containing the registration link.
The events speakers will be Alexander S. Kulikov, Program Lead, and Natalia Kitaeva, Project Coordinator.
Kuliko teaches his students algorithms and discrete mathematics. He holds Ph.D. and Dr.Sci. degrees from Steklov Mathematical Institute, and serves as the head of the Laboratory of Algorithms and Complexity Theory at JetBrains Research.
Kuliko will go through the highlights of the bachelor's program, tell prospective students about the skills they'll acquire, and explain how they can apply them in real projects in their future career.
Kitaeva manages and oversees educational initiatives at JetBrains, including the Computer Science and Artificial Intelligence program. She provides guidance and support to students and ensures a positive learning experience.
Kitaeva, will walk prospective students through the application and admissions process and answer any questions they may have.
"Come prepared with any questions you may have – we'll try to answer them during the stream! The recording will be made available shortly afterwards," the JetBrains announcement notes.
Click here to see the original invitation to the event on the JetBrains Academy blog.