President raises issue of investments in occupied Cyprus during visit to Israel
08:09 - 12 May 2023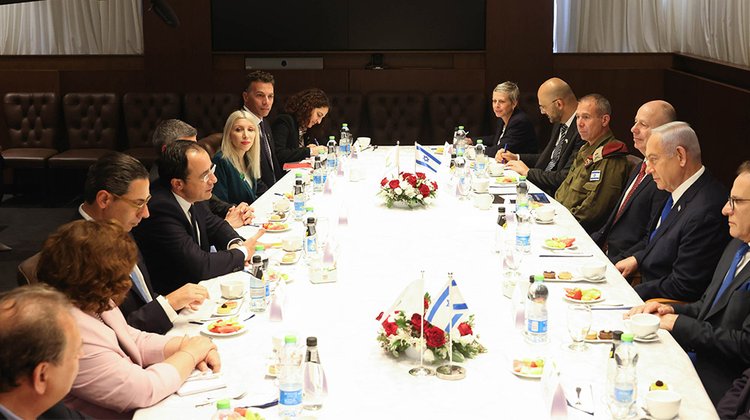 Cyprus President Nikos Christodoulides raised the issue of Israeli tourists visiting the Turkish occupied areas of Cyprus and of Israeli investment activities related to Greek Cypriot occupied properties, during his meetings with the President and the Prime Minister of Israel, in Jerusalem.
According to diplomatic sources, there was a positive response from the Prime Minister of Israel, Benjamin Netanyahu, as regards the prevention of such actions.
During the 11 May meetings, it was also agreed that Cyprus should continue its efforts with specific actions to strengthen EU-Israel relations and be activated in order for the next EU-Israel Association Council to take place.
According to the same sources, energy cooperation was also at the center of the discussions. In particular, the two countries discussed cooperation in the region for the exploitation of natural gas, but also the issue of creating the required infrastructure in Cyprus.
At the same time, the pending dispute between Cyprus and Israel regarding the "Aphrodite" deposit in the Cypriot Exclusive Economic Zone (EEZ) and the neighboring " Yishai" deposit, for which there are claims by Israel, was also discussed. The two countries agreed that a resolution of this issue is urgent.
The two sides also pledged to speed up and complete negotiations on a double taxation avoidance agreement as soon as possible, while concrete actions were discussed.
Matters of strengthening commercial and investment relations as well as tourism issues were also on the agenda.
At the same time, the meetings reaffirmed the importance of the Cyprus-Israel-Greece tripartite cooperation and it was agreed to hold a Tripartite Summit next Fall in Nicosia.
Additionally, the two sides agreed to promote 3 + 1 scheme (Cyprus, Greece, Israel and the United States) and to pursue a high-level Summit of the four countries. In this context, the next actions of the two countries were agreed towards this direction.
Finally, it was discussed how Cyprus can be actively involved in the Negev Forum, in which Israel, Arab countries and the United States participate. In this context, the two countries discussed the role that Cyprus can play in the forum, the new dynamics and changes in the Middle East and the Gulf, especially as regards the issue of the normalization of Israel's relations with the Arab states, which constitutes a priority of Israel's foreign policy.
Cyprus has been divided since 1974, when Turkish troops invaded and occupied 37% of its territory.
(Source: CNA)