TUS Airways on the lookout for A320 Captain
12:05 - 10 May 2023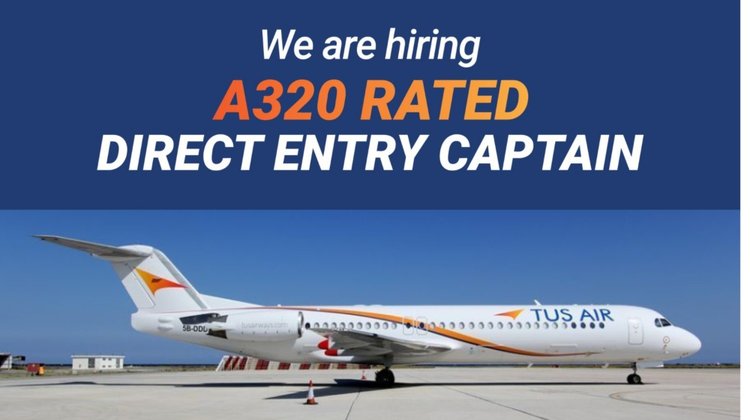 TUS Airways, the Cyprus-based scheduled and charter airline, is hiring an A320 Rated Direct Entry Captain.
"TUS Airways Ltd continues its network expansion plans using our fleet of Airbus A320 aircraft for Summer 2023 onwards, with an exciting improved package, the most competitive in Cyprus," the company said.
The minimum requirements for the job include: minimum 4,000 hours total flying time (minimum of 2,500 hours Pilot in Command (PIC) on a Multi-crew, Multi-engine Turbo-Jet aircraft; minimum 1,500 hours PIC on Airbus Fly by Wire Aircraft); a valid A320 type rating; valid EASA ATPL(A) Holder; valid EASA Class 1 medical certificate; English language proficiency level 4 or above; a clean Criminal Record; and the unrestricted right to live and work in the EU.
Candidates must submit their application by 31 May 2023, along with their CV, a valid passport copy (scanned), current photo, copy of Flight Crew Licence and Class 1 Medical, copy of last 3 pages of Logbook (Certified), and any reference letters available relative to the position.
Shortlisted candidates will be contacted accordingly for arranging the recruitment evaluation following the closing date as stated above.
TUS Airways is a Cyprus-based scheduled and charter airline established in 2015. It operates a fleet of A320's to destinations to and from Cyprus' Israel' Greek islands and centre of Europe
The airline was founded with the vision to provide better access between Cyprus and neighbouring countries in the Eastern Mediterranean with high frequency schedule during the day' comfortable' economic and alternative flights.
Click here to apply for this job.