PwC Cyprus celebrates another year of international recognition for trainee accountants
12:45 - 10 May 2023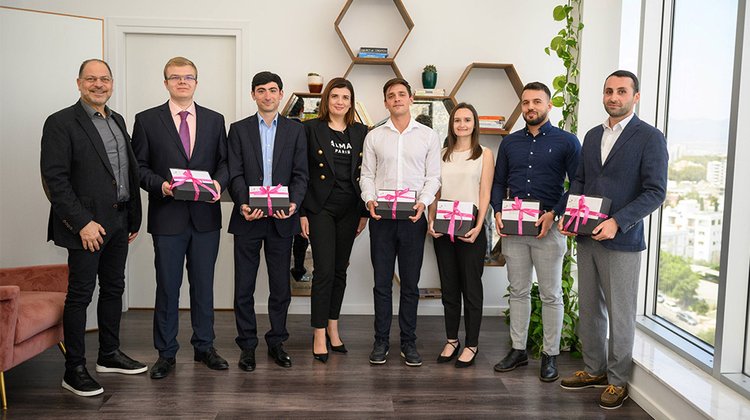 PwC Cyprus has once again rewarded excellence by recognising the overall performance of its trainee accountants and their efforts in achieving their goals resulting in significant distinctions.
According to a PwC Cyprus announcement, the trainee accountants who managed to achieve significant distinctions in the international exams of the ACCA were honoured during a special ceremony held on 5 May, at the organisation's Experience Center, in the presence of CEO Philippos Soseilos and Chief People Officer Anna Loizou.
More specifically, Alice Simpson, ACCA member (September 2022 exams) and trainees Amin Fataliev, Gor Shahbazyan, Kirill Bogdanov and Alexander Kabanov were awarded for their performance in the December 2022 ACCA exams, and student Thomas Thomaidis for his success in the March 2023 exams.
Alice Simpson was ranked 1st overall in Cyprus in the September 2022 exam period and completed her ACCA qualification in December 2022. Amin Fataliev achieved first place in Cyprus and 23rd worldwide in Financial Reporting paper. Gor Shahbazyan achieved first place in Cyprus and 37th worldwide in the Advanced Financial Management paper. Kirill Bogdanov achieved first place in Cyprus and 8th worldwide in the Strategic Business Reporting paper. Alexander Kabanov achieved first place in Cyprus and 17th worldwide in the Financial Management paper. Student Thomas Thomaidis achieved first place in Cyprus and 32nd worldwide in the Financial Management paper.
Commenting on the achievements, Soseilos and Loizou congratulated the awardees on their success, highlighting that the importance of acknowledging and rewarding excellence in a highly competitive environment is crucial as it encourages people to reach the maximum of their potential. "We are proud of all the winners and wish them the utmost success. We believe in our people and we are here to support them in any way they need so as to succeed in addressing the challenges of today and tomorrow," Loizou added.