Invest Cyprus: Present at the 76th Cannes Film Festival
07:00 - 10 May 2023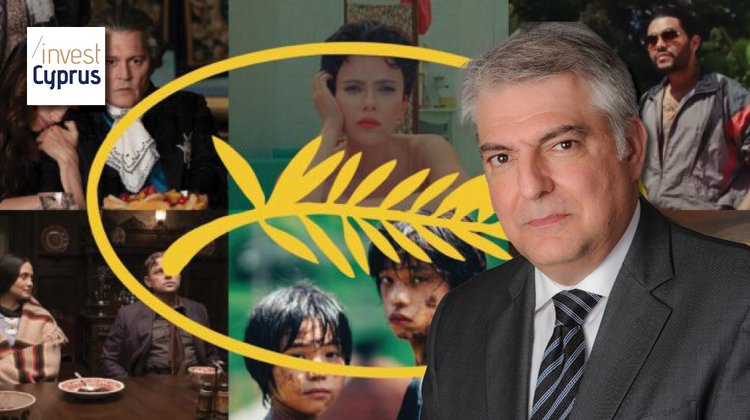 Swedish reality show The Challenge and a film production based on the 1989 Oscar-winning film Shirley Valentine are just a few of the major productions that have just wrapped in Cyprus, as the island continues to tap into its up and coming film industry.
And Invest Cyprus will be present at the 76th edition of the Cannes Film Festival this month, continuing its effort to promote the local audio-visual scene to a wider audience.
Cyprus Film Commissioner Lefteris S. Eleftheriou said the aim was to continue with the agency's successful effort to attract more big productions to the island, but also encourage producers abroad to relocate their studios to Cyprus.
"We will have contacts with producers who we are already talking to in order to convince them to come to Cyprus. We will meet with new people, producers and studios. And, as I am also an elected Board of Directors member of the European Film Commissions Network, I will also be attending a few events and board meetings. Cannes is always an opportunity to meet people, new producers, make your case known. And because it is the biggest film event internationally, we have to be there."
Eleftheriou said that Cyprus' audiovisual industry has huge potential, and this is something the agency has been trying to tap. "We are a relatively new commission – we started in 2018, then the pandemic happened and we are kind of having to start over again. Yet a lot has been done and we have some projects in post-production right now."
As he said, filming of the Swedish reality show Challenge wrapped recently and is soon to air. "They spent €2.5m in Cyprus in the space of around three weeks, employing over 50 Cypriot people to work on the production."
Also, a Channel 5 production based on the Oscar-winning film Shirley Valentine has just wrapped and is in the post-production stage. Channel 5 is a British TV channel that is owned by Paramount. "Another TV series by StudioCanal and Canal+ in France, one of the world's biggest film organisations, has been completed and is expected to go live soon," said Eleftheriou.
The Hollywood movie The Island, which was filmed in Cyprus, is also in post-production and expected to be released soon.
"Also, our agency is in contact with studio owners abroad, to convince them to relocate to Cyprus, to build and run a proper filming studio in Cyprus," said Eleftheriou. "We will be meeting with them in Cannes to this end."
All this activity has not gone unnoticed by the local talent either, Eleftheriou pointed out. "As we have had many productions come to Cyprus lately, many Cypriot professionals who worked abroad are now returning to Cyprus as they now have a job. These productions each employ 50-80 locals a time, so it is all very encouraging," he said.