The Importance of ESG in the Construction Industry
Lefkios Hadjiargyrou 13:55 - 03 April 2023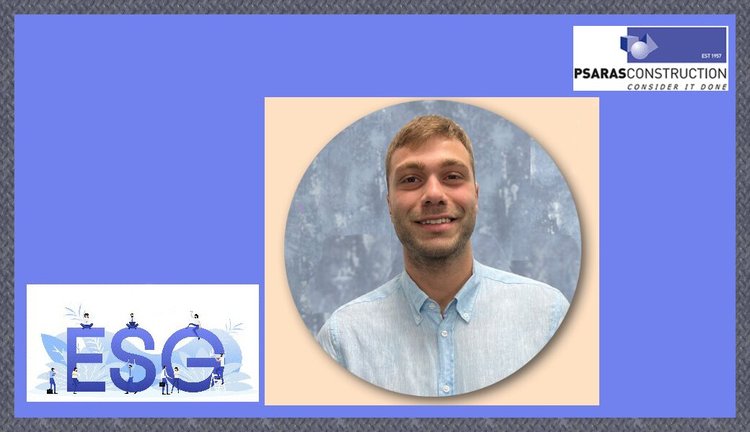 ESG factors have become increasingly important in the business world. Companies like N.Psaras Construction are leading the way by implementing business models that address these three factors. N.Psaras Construction values its community and environment, and this is reflected in its approach to investment and its operations.
Environmental sustainability is a major priority for N.Psaras Construction. The company has implemented a strict recycling policy in its offices and on all construction sites. Bins for waste and recycling are clearly marked, and all staff members are well-informed about the policy. The company is a member of Κ.Ο.Δ.Α, a collective waste management system aligned with current waste laws. N.Psaras Construction also supports Cans for Kids, a charity that recycles aluminum cans and provides medical equipment for children's wards within Cypriot hospitals. The company has been certified from the Cypriot Certification Company regarding its Environmental Management System (ISO 14001:2015). In addition, the company has planned the installation of solar panels in its offices and all construction sites to reduce its carbon footprint and to gradually convert completely to 'green' methods of energy.
Social responsibility is also a key factor for N.Psaras Construction. The company has been internationally acknowledged and certified as a great place to work in 2020-2021 and 2021-2022. This achievement is particularly notable in an industry linked to health risks and hard labour. The company values its employees' wellbeing and provides extensive measures to ensure their safety. It has been certified another certificate from the Cypriot Certification Company regarding its Health and Safety system (ISO 45001:2018). N.Psaras Construction has also introduced females to its workforce, encouraging them to join and develop in various positions ranging from management to on-site engineers. The company provides training and qualifications to its employees relative to their roles in the company, expanding their knowledge in their field of work.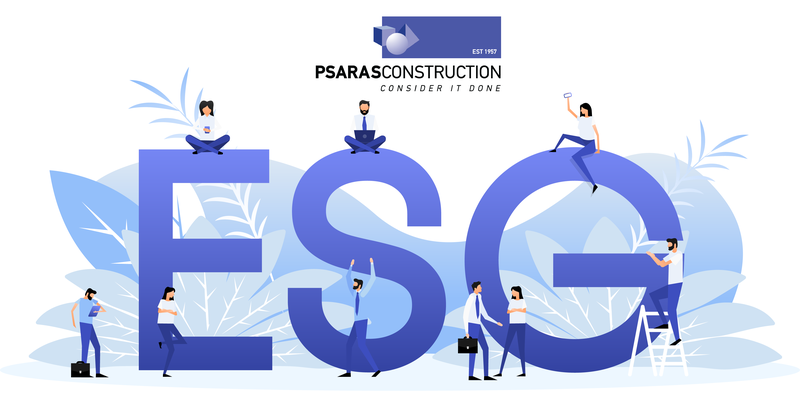 The company is a multi-ethnic organisation that respects others' values and beliefs and has no tolerance for discrimination. It provides opportunities for people leaving rehabilitation centers and prison schemes without prejudice. The company has also inherited the founder's vision and passion for helping society and therefore continues this tradition by supporting the community and the environment in every way possible. N.Psaras Construction has been awarded two Cyprus Responsibility awards in its Human Resources department, achieving a gold status award for best workplace diversity strategy and a bronze status award for the best employee engagement strategy.
Governance is also an important factor for N.Psaras Construction. The company has earned a reputation for delivering high-quality and cost-effective projects on schedule. The company remains loyal to its craft and innovative in finding solutions that benefit all its stakeholders, taking into deep consideration its indirect stakeholders. The company has been certified from the Cypriot Certification Company regarding its quality systems (ISO 9001:2015). The company's board of directors and management take responsibility for its values and commitment with an ethical code of conduct, taking into consideration all members of society. Policies are clearly defined, and the company maintains a transparent method of work, making the company efficient and proactive. N.Psaras Construction has expanded from being a family business and has introduced non-relative partners. The company wants to remain inclusive and provide prospects for any determined individual in its company willing to make a difference and set the same moral example for the new generations to come.
In conclusion, N.Psaras Construction has implemented an investment philosophy that meets social responsibility standards when making investment decisions. The company's business model addresses Environmental, Social, and Governance (ESG) factors. It has developed a long-term value with environmental and social management challenges and opportunities in its projects that benefit all stakeholders. The company is a prime example in its challenging sector of how businesses can create value while also making a positive impact on the environment and society.
Lefkios Hadjiargyrou is Business Administrator at N.Psaras Construction