Mall of Cyprus records a profit in 2022, Mall of Engomi suffers losses
14:27 - 27 April 2023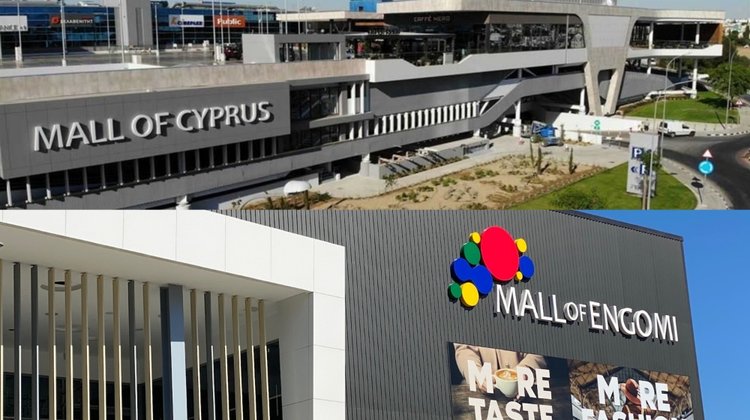 Mall of Cyprus recorded a significant profit and revenue increase in 2022, as opposed to the Mall of Engomi, which despite seeing an increase in revenue, recorded losses.
Though it is worth mentioning that following its full renovation in 2020, which was completed at end-2021 – Mall of Engomi's number of visits surpassed pre-renovation records and while it still hasn't managed to rent out all its available space, there has been an increase in new tenants, in the range of 2.7% compared with 2019.
The two malls have published their financial results for the year ending 31 December 2022.
The Mall of Cyprus' revenue on the last day of 2022 was €17,100,073 compared with €15,300,635 in 2021. Its operational profit reached €23,519,898 (it was €19,443,424 in 2021).
Its net profit after tax totalled €20,095,169, up from €14,865,911 in 2021. As of 31 December 2022, total assets were €230,065,684 (2021: €217,147,948) and net assets were €121,264,758 (2021: €104,569,589).
The company's liabilities bearing floating interest rates amounted to €84,701,495 (€87,588,134 in 2021), with the management monitoring interest rate fluctuations on a continuous basis and acting accordingly. Its credit risk came from trade and other receivables amounting to €1,077,482 (net, after cumulative expected credit losses €1,027,397), compared with €1,286,822 (net, after cumulative expected credit losses €861,650) in 2021, loans receivable €1,240,377 (2021: €883,144) and bank balances of €5,837,021 (2021: €5,452,227).
As for the Mall of Engomi, revenue for the year ended 31 December 2022 was €3,245,473 compared to €2,616,412 for 2021. The company's operating profit was €795,582 (2021: €1,918,307). It recorded a loss after tax of €755,214, as opposed to a profit of €959,728 in 2021.
The company's total assets were €44,307,073 (2021: €49,003,097) and its net assets were €13,899,345 (2021: €17,654,559). The financial position, development and performance of the Company as presented in these financial statements are considered satisfactory under the circumstances. Its liabilities that carried floating interest rates amounted to €28,901,816.
At 31 December 2022, the company's credit risk came from trade receivables of €193,812 (2021: €91,020), net, after cumulative expected credit losses €127,763 (2021: €40,341), loans receivable to related parties €102. (2021: €3,793,665) and bank balances of €611,029 (2021: €2,019,502).
On July 27, 2022, the Board of Directors approved the payment of an interim dividend of €3,000,000 to its shareholders from the net profits of the year ended December 31, 2021 (2021: €0). The Board of Directors has not proposed any further dividends.