Cyprus Marine Club learns more about Cyprus as a location for shipping companies and financing
10:55 - 27 April 2023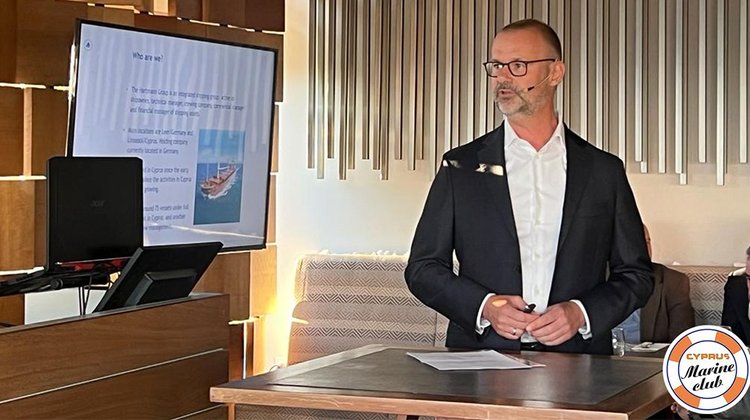 On 26 April 2023, the Cyprus Marine Club held an event with a presentation from Dr. Niels Hartmann under the title:- " Cyprus as a location for shipping companies and financing".
In an announcement after the event, the Cyprus Marine Club noted that Dr. Niels Hartmann is the Chief Executive Officer (CEO) and board member of the Hartmann Group and founding member of Pelagic Partners. The Hartmann Group is a German independent, family-owned shipping company, managing and operating a fleet of around 150 ships between owned and third-party tonnage.
Dr. Hartmann is a PhD graduate from the University of Kiel (2005) with an emphasis on national location factors for ship-owning companies. As Group CEO he is responsible for the strategic development of the Hartmann Group's business and fleet and for organisational matters.
Dr. Niels Hartmann is also a member of the board of the German Shipowners' Defence Association.
Accoridng to the Cyprus Marine Club announcement, "The presentation of Dr. Hartmann attracted over 100 participants and focussed on the pros and cons of setting up a shipping company in Cyprus, the challenges and opportunities of decarbonization, and Cyprus as a Technology and financial hub. Dr. Hartmann introduced to the audience Pelagic Partners and talked about the regulated shipping funds as an alternative vehicle for the financing of vessels, presenting the advantages of fund-owned vessels vs pure 3rd party management. After the presentation a few burning questions were raised by the audience, and a heated, passionate discussion followed."
Capt. E. Koch welcomed members with a brief update and shared membership numbers (152 on the day) and announced the participation of the Cyprus Marine Club in the Thalassa Event on 20 May and then reminded members about the Club's AGM on Friday, 26 May at Epsilon.
If you are interested in becoming a member of the Cyprus Marine Club, please contact Ms. Julia Paczkowska: info@cyprumarineclub.org.cy
The Club also expressed its appreciation to Gazebo Mare Team for their excellent service.
The Cyprus Marine Club is a non-profit organisation that embraces and encourages a plethora of maritime industry stakeholders for friendly membership. Ship Owners, Ship Managers, Crew Managers, Service Providers & Suppliers, Agents, Terminal Operators, Legal and Financial, and more, come together with a focused effort to promote and celebrate the Cyprus maritime industry and share experiences.
SPONSORS: Cyprus Marine Club's Annual Titanium Sponsors: OELSR, Platinum Sponsors: Nippon Paint Marine, UMAR I WSR, Tototheo Maritime, Steamship Insurance Agency Europe Limited, |Annual Gold Sponsors: Mare Magna Shipmanagement| Onenovation| Marlow Navigation| Safebulkers Iridium Sponsors: BALUCO| DP World | Annual Silver Sponsor: Deloitte, FML Shipmanagement', EPSCO, TMH Limited| DESMI| Lapwings Maritime