ICAEW President: "Accounting is an ever-evolving profession"
Athena Yiazou 07:29 - 25 April 2023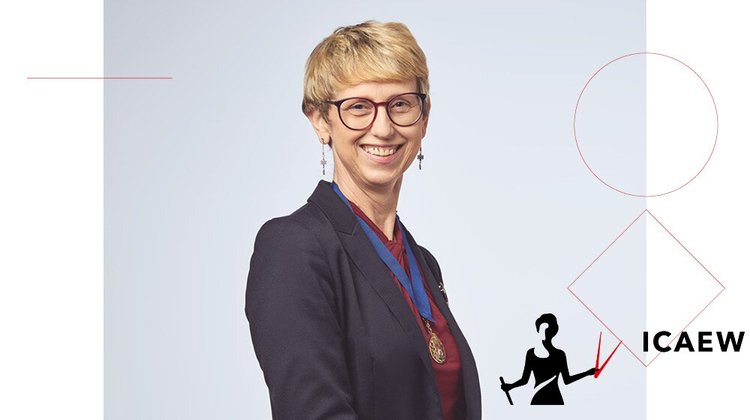 As newly qualified accountants around the world, including Cyprus, continue to embrace ICAEW membership, the prestigious organisation's new President, Julia Penny, suggests that the ever-evolving profession offers far more exciting opportunities than most people realise.
Julia Penny, the new President of the Institute of Chartered Accountants in England and Wales (ICAEW) is the perfect ambassador for her profession. Along with a natural vivaciousness, her enthusiasm for the world of accounting is immediately evident and contagious.
Penny was in Cyprus recently for the Institute's new members ceremony, at which 138 newly qualified professionals were recognised for achieving their ACA Chartered Accountant qualification, making them eligible to apply for ICAEW membership. While on the island, Penny also signed a Memorandum with the Institute of Certified Public Accountants of Cyprus (ICPAC) to provide continuous learning opportunities to chartered accountants and the wider business community.
Speaking to GOLD, Penny said that she was always pleased to welcome newcomers to the accounting profession and wished that more people – including those in other sectors who were looking to explore a new field – would consider it as a career. She also underlined that the commonly held image of accountants and their work is very outdated, particularly since computer software now exists to carry out the most routine accounting-related tasks.
Important decisions
"Chartered accountancy has always been about taking important financial decisions and understanding how finances facilitate a business's growth, as well as the risks involved. Moreover, from the audit point of view, it's about giving people confidence in the financial statements they're reading. Without these things – good financial management, good stock exchanges, good financial information – we won't have a good economy and that's bad for the country as a whole," she explained.
According to Penny, accountants will be responsible for driving sustainability and the world's transition to net zero, and this is another point that she believes people of all ages should keep in mind to fully appreciate considering the many benefits of the profession. "It is a hugely rewarding career," she states with confidence.
On the issue of sustainability, Penny noted that, having celebrated its 150th anniversary in 2020, ICAEW was continuing to implement its 2020-2030 Strategy, formulated to mark the occasion. It includes five strategic areas of particular focus, the first of which is sustainability and, specifically, helping the world achieve the United Nations' Sustainable Development Goals. ICAEW's involvement in helping the planet began years before sustainability became a buzzword, with efforts such as collaborations with the World Wildlife Fund.
"We used to talk about strong economies, which we still think accountants really contribute to," she said, "But in today's world, being strong isn't enough. You can't be strong if you're not sustainable and we therefore felt that the focus had to be on sustainable economies."
Constant change
Penny also noted the role of accounting professionals in the transformation of trade and the economy. "There are always changes going on. Now we're in the post-pandemic period, we've got economic shocks and there's war in Ukraine," she said.
Much of this transformation involves technology and accountants, who now operate in the digital world while looking after their clients' finances, are also perfectly placed to navigate the changes in this sector. The profession, meanwhile, is also embracing diversity: "Organisations are stronger for having a mix of people, so we're working really hard to make sure that we can attract the right talent, that we build diversity, whether that's gender, ethnic or socioeconomic diversity, to be a profession that is welcoming to all."
Having been admitted to ICAEW in 1989, Julia Penny has personally witnessed many changes to the world of accounting since then. "Gender diversity is certainly one of the areas in which I've seen rapid change. Clearly there were women when I started – I was one of them and I had other colleagues who were women – but it was very much a male-dominated profession, so it was very common to be involved in an Institute committee, for example, and be the only woman on it." While this may still occur sometimes, it is rare today, she noted.
Developing technology
Technology is another aspect of the accounting profession that has undergone tremendous change. "When I started we were using pens, paper and calculators," she recalled. "Computers did exist but I didn't use one at first, so there's been a huge transformation from a technological point of view and, more recently, from a data analytics point of view." Data analytics and Artificial Intelligence (AI) now enable accountants to understand more easily and quickly how a business, organisation or even government is operating, and to pinpoint potential discrepancies.
Penny explained that newcomers to the profession are now educated in technology and sustainability, while ICAEW takes steps to support older members to fill the gaps in their knowledge through additional training.
Julia Penny stressed to GOLD how pleased she was to see the 138 newly qualified chartered accountants in Cyprus and underlined ICAEW's close ties to the country. She had previously met with the Accountant General, Rea Georgiou, with whom she discussed ways of further strengthening this relationship. The ICAEW President also noted that, on her official visits to Cyprus and other countries, she was constantly being reminded that the world still needed more accountants and auditors.
"The bar is always being raised higher and, although a few years ago we though that technology would start to take these jobs away, what we're finding is that, while technology is really important, you still need people to work with it and to make judgements. And we haven't yet found a replacement for the people who make those complicated judgements," Penny explained.
She also underlined the fact that it's never too late for someone to consider a career as a chartered account.
"I know people who were teachers, doctors and members of the armed forces who then became accountants," she said, adding, "For economies to work well, it is important that we have enough auditors and a sufficient understanding of accounts and financial management."
The future
Looking forward, Julia Penny expects the accounting profession to continue its focus on sustainability and transition over the coming decade. "I'm hoping that we will have made significant progress on the transition to net zero. It's a longer journey than that, of course, but accountants are going to be even better educated and we will have new sustainability standards," she explained.
The ICAEW President is also confident that the already diverse profession will become even more welcoming to all: "We can see from the student intake that we are becoming more diverseall the time and that will lead to better decisions and workplaces where everyone feels comfortable."
While advances in technology are harder to predict, Penny said that she is looking forward to seeing what the future holds and suggested that, "We might find that there's a really big development on the data analytics side, including the ability to audit, check and understand accounts using artificial intelligence and possibly blockchain as well."
(Photo by TASPHO)
This interview first appeared in the April edition of GOLD magazine. Click here to view it.