Cyprus: The new Global Tech and Innovation Hub Summit
15:05 - 09 March 2023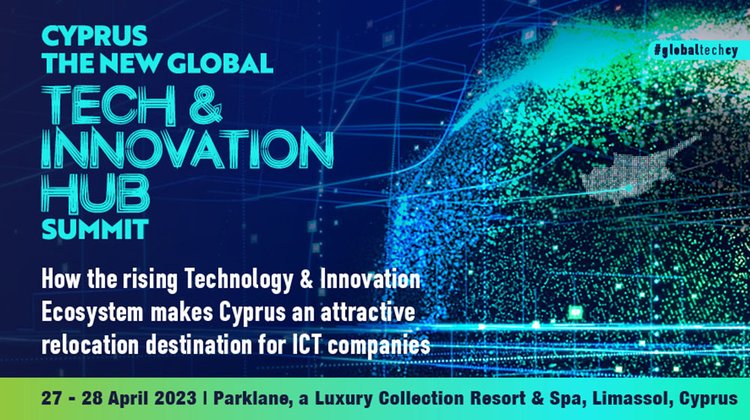 Cyprus' appeal as a leading international headquartering location is gaining momentum. During the past few years, hundreds of technology companies have relocated to Cyprus.
Several internationally successful organizations, including Investment Firms, FinTech, RegTech, Entertainment and Media Tech (Gaming Industry) firms, have already either relocated or expanded in Cyprus using the country as a base and gateway to and from the EU. These companies employ tens of thousands of people on the island and over 400,000 worldwide.
The technology sector in Cyprus is growing at many times the rate of the rest of the economy, attracting the lion's share of investment and creating many new jobs, while at the same time breaking down the boundaries between sectors of the economy.
Cyprus: The new Global Tech and Innovation Hub Summit is an international summit which will showcase Cyprus' dynamic and competitive economy, driven by research, scientific excellence, innovation, technological development, and entrepreneurship. The Summit, which will take place on Friday, 28 April 2023 at the Parklane, a Luxury Resort & Spa, will focus on why Cyprus is an excellent regional hub in these fundamental, for the economy, sectors but also on its advantages that make it stand out as a technological hub.
Participants will also have the opportunity to learn about the "Cyprus Vision 2035" strategy for the Cypriot economy from key figures in the reception centres and to attend discussions between popular figures from Cyprus and abroad to learn first-hand about mobile case studies involving other large Organizations that chose the country.
Who it concerns
The Summit is addressed to international delegates (entrepreneurs and senior executives from ICT companies) operating in the fields of Software development, Financial technology, Investment services, Payments and/or electronic money, Regulation and compliance, Cyber-security, Artificial Intelligence, Data management, Telecommunication services, Entertainment, Gaming, Media, and other ICT.
The event is also addressed to partners and other senior professionals from Accounting/Audit/Tax firms, Legal firms, Corporate service providers, Business/Management consultants, ICT consultants, Tech start-ups, Tech-multinationals with a presence in Cyprus, and IP-rich corporations.
For further information and registrations please click here.
For more information on sponsorship opportunities, contact:
Christopher Constantinou at 22505565 or via email at christopher.constantinou@imhbusiness.com.
INFORMATION
Organiser: IMH
Knowledge Partner: Invest Cyprus
Silver Sponsor: GR8 Tech
Ecosystem Partner: TechIsland
Innovation Partner: Research & Innovation Foundation
Official Media Sponsors: Cyprus Business News, IN Business magazine, GOLD magazine
Contact number: 22 505 555
Email address: events@imhbusiness.com
Website: www.imhbusiness.com