The highly-anticipated arrival of Skroutz and its next steps
12:47 - 09 March 2023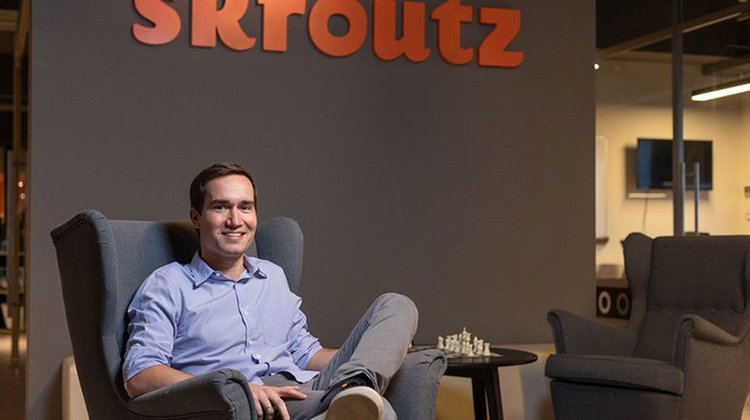 The highly-anticipated arrival of Greece's largest online shopping platform, Skroutz, has been warmly welcomed by both Cypriot consumers and businesses alike.
In an interview with InBusinessNews, the company's Chief Operating Officer, Yannis Alivizatos, reveals all the exciting plans it has in store for shoppers. The aim is to increase its network of local businesses and deliver offers and products that cover the entire scope of Cypriots' needs.
What has the response been from the public, a few months on from the platform's launch in Cyprus?
Our first impressions from our presence in Cyprus are very encouraging. We have had a warm welcome, both by Cypriot consumers as well as local businesspeople/merchants. This can also be seen in the data we have available. There are over 100 new Cypriot shoppers a day, who are showing a preference to fashion, technology and health and beauty products, with the turnover exceeding €2m in less than six months.
At the same time, there is an ongoing expression of interest by merchants to collaborate with us and offer their products through the Skroutz Marketplace. Besides, one of our targets for the next few months is to strengthen our local presence with the addition of more local merchants to our network of associates and to deliver special offers and products that cover the Cypriot consumer's needs.
In your opinion, how can the use of e-commerce be increased?
In order for e-commerce to grow in Cyprus, it will need to cover all the needs of users that are currently not being met and we have mapped out the specific market. For us to achieve this at Skroutz, we rely on having a large variety of products at competitive prices, immediate service, but also providing the perfect experience for the consumer from the moment they start searching to the delivery.
Users of the Skroutz platform enjoy easy navigation, both through the web and through the company's app (iOS and Android), with the ability to purchase over 5.6 million products, with full payment security, delivery guarantee or money back, and instant service via chat or email. They have a choice between fast delivery or a slower, more affordable delivery to Cyprus, with discounts in transportation costs for orders worth over €80, while returns are free of charge and an easy process.
Furthermore, with the addition of more local merchants we will offer an even better and swifter service to Cypriot consumers, while with the gradual introduction to Cyprus of the services we already offer in Greece, we will be able to ensure the perfect shopping experience for all Cypriot consumers.
What are the characteristics of the Cypriot market from your viewpoint and what can we be taught from that of Greece?
Cypriot consumers have high criteria and standards when it comes to the services on offer. They are well informed when it comes to the scope and price of products and they will not hesitate to spend if they are happy with the product or the service they are receiving.
We formed the services we offer in Cyprus based on these characteristics and we will also have these in mind when we implement our future plans, so that consumers can enjoy a top quality shopping experience. It is worth noting that e-commerce is the future, not just for consumers but also merchants. As is the case with the Greek market, there is momentum here as well for it to become a supplementary retail channel with countless advantages and conveniences.
What are your next moves in the Cypriot market and which sectors should we expect to see investments?
The Cypriot market is very important to us and we want to invest further in developing it. Our next steps will be to expand the network of Greek merchants that have missions in Cyprus and to create an even bigger network of associates-local merchants based in Cyprus, who will offer their products through Skroutz Marketplace.
At the same time, we will promote synergies that can offer higher value to consumers and focus on more payment and delivery options, making even more products available.
One of the services you offer is Skroutz Plus, quite a useful tool as it reduces delivery costs. Are there any plans to introduce this in Cyprus as well?
We intend to make the Skroutz Plus service available to Cypriot consumers as well within 2023, with some changes compared with Greece so as to tailor it to the Cypriot consumer's needs. It is true that the benefits from Skroutz's subscription service, such as reward points and discounts on selected products (Plus Deals), have been embraced by consumers in Greece and we expect the same to apply in Cyprus as well.
Are there plans to expand to any other countries as well? Either in the EU or outside?
Very recently, we announced the delivery of products to 20 EU countries (including Greece and Cyprus), offering shoppers the opportunity to enjoy the reliability and millions of products that can be found on Skroutz Marketplace. This strategic move offers the Greek and Cypriot companies a gateway to the European market and offers them an additional channel to increase their sales.
What new services should we expect from the platform in 2023 and what are your targets?
Skroutz is constantly growing and evolving. We will continuously introduce new services to Cypriot consumers throughout the year, starting with the new payment options (such as the wallet and pay on delivery), the aforementioned Skroutz Plus service, swifter delivery options as well as the 24//7 after-sales telephone service for consumers.
(Source: INBusinessNews)