How much does it cost to spend the night in one of Limassol's towers?
06:23 - 03 March 2023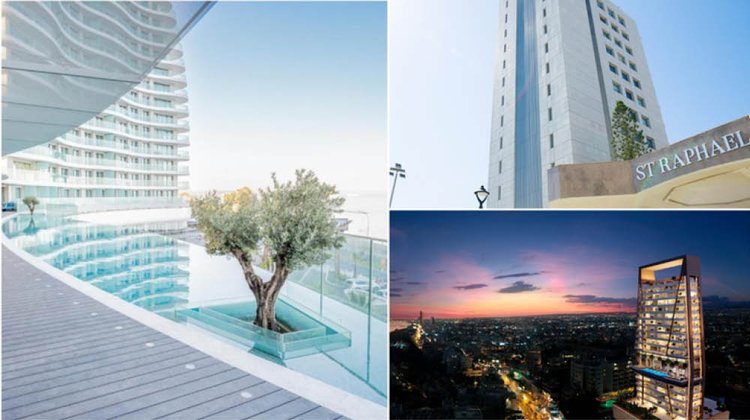 A number of Limassol's high-rise buildings offer short-term accommodation and given their proximity to the bustling city's beachfront and their luxury amenities, are becoming an ideal option for a vacation, business trip or conference tourism.
InBusinessNews found out how much it costs to spend the night in three of the towers that offer accommodation. The prices, which vary depending on the season and were gathered from the buildings' official websites, start from €190 per night for a studio up to €6,804 a night for a penthouse.
The Tower, located by the St Raphael Resort & Marina in the Pyrgos area, combines the private accommodation experience with the five-star resort's services, with visitors choosing from two- to three-bedroom luxury apartments (starting from €794 per night in February), as well as four-bedroom penthouses. The latter can accommodate up to eight people, costing €6,804 a night. The Tower also offers two tennis courts, a gym, spa, sauna, steam bath and Jacuzzi, business centre, playground, safety deposit boxes and indoor heated pool.
The Limassol Del Mar tower, located east of Limassol, spans 35,000m3 and was built by a consortium of two Cypriot companies; the Leptos and D. Zavos groups. It offers all the luxury amenities of a five-star hotel, including 24-hour services, indoor and outdoor pools, a spa, shopping centre, catering venues and gym.
Prices start from around €190 a night (in February) to stay in a studio suite for two or four (they start from €330 in the peak month of August). Prices for a one-bedroom suite start from €310.
Imperio's The Icon tower in Germasogeia offers 60 luxury residences with sea views as well as a multitude of amenities – including the La Caleta restaurant and top-of-the-range Fitness and Yoga Club.
In the month of February, it costs between €165 and €220 to rent out a one-bedroom residence with sea view (€290 to €350 in August), while a three-bedroom residence with private garden (spanning 240m3 for up to six people) costs between €390 and €510 per night (around €700 in August).