Island Life: Four ECOMMBX employees on their experiences of working in Cyprus
12:39 - 20 March 2023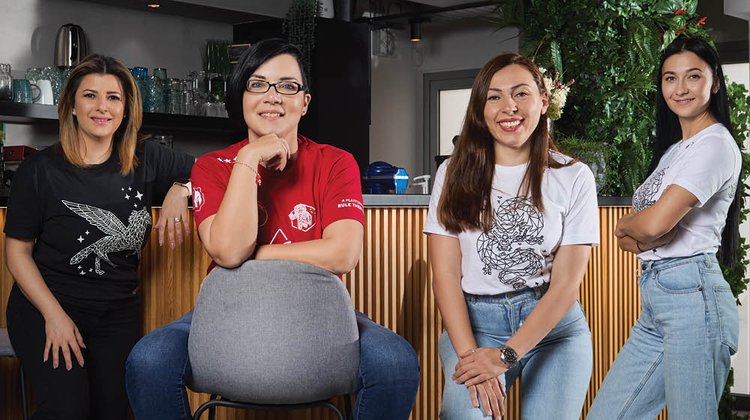 As part of GOLD magazine's March 2023 cover story, young professionals from overseas who are now living and working in Cyprus talked about their experiences.
Below, four ECOMMBX employees share their stories:
Annie Kaplanian
Born in Jerusalem of Armenian origin and with Italian nationality, and at home in Cyprus since 2008, Annie Kaplanian is hard to scare – and, clearly, one who dreams big. Known as the 'payments guru' at ECOMMBX, she belongs to a team that eats, sleeps and breathes to the rhythms of SEPA, SWIFT and other related acronyms; it is a competitive business, with cut-off times that would make the blood of many curdle. The fact that she works in a sector that is only as good as the solutions it can provide gives Kaplanian precisely the challenges that make her tick. To recharge her batteries, she taps into all things Mediterranean: the food, the sea and the island's natural magic.
Eliza Zalimi
ECOMMBX's Manager of the Transaction Management Unit, Eliza Zalimi, came from Greece 15 years ago and did not easily transition from the big city life in Athens to the smaller dimensions of Nicosia. But it was one of those things we do for love, and she did it for the man who then became her husband. Work, however, offered worthwhile compensation. In her own words, Cyprus has much more to offer, with people more willing to put in the time and effort compared to Greece. She has also noticed that Cyprus is much more open to new ideas and ways of doing business, which is very important for the development of the financial sector, and the introduction of procedures that offer customers a better banking experience.
Viktoria Askalidou
Originally from Ukraine, Viktoria Askalidou came to Cyprus as a child, when her parents moved here in search of a better life. At ECOMMBX, her role is both broad and deep. From analysing alerts that come from a real-time transaction monitoring tool to examining clients' KYC information, as well as processing requests from correspondent banks and communicating with clients, she is used to doing what women do best: multi-tasking. Apart from noting Cyprus' growing appeal among the international start-up, fintech and IT business community, Askalidou underlines another rare yet invaluable advantage: Cyprus is a great and safe place to live for families or pensioners and she would not trade it for anywhere else.
Diana Lee
Her husband's job brought Diana Lee from Russia to Cyprus two years ago. She easily adapted to life on the island and they both immediately made friends. As a Business Development Officer at ECOMMBX, she is dedicated to growing the company's network and exploring new market opportunities. The differences between Russia and Cyprus in terms of the professional environment – and, in particular, the working environment at ECOMMBX – were obvious: the corporate culture is more relaxed and informal compared to Russia, where the hierarchy is much more rigid. As a newcomer to the island, she is keen to explore hidden villages, enjoy exciting water sports, and all that makes Cyprus a welcoming second home to all.
This feature originally appeared in the March 2023 edition of GOLD magazine. Click here to view it.