Another International Award for Infocredit Group
08:00 - 18 March 2023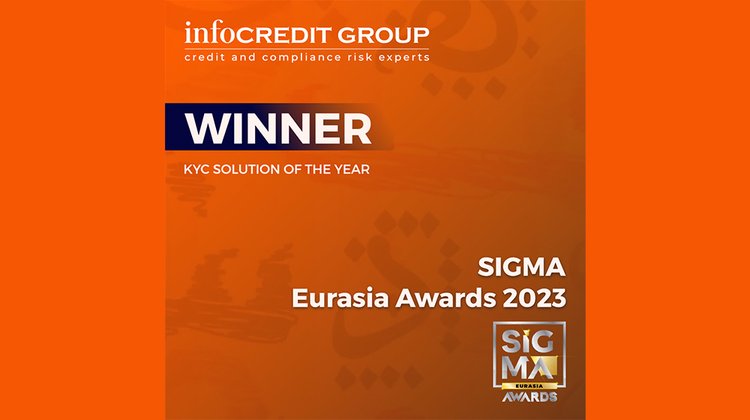 Infocredit Group proudly announces the winning of this year's Sigma Eurasia Awards 2023, in the category "KYC Solution of the Year"!
The award ceremony was held on Tuesday 14th March 2023 ceremony at the Al Baraha Ballroom, Intercontinental in Dubai, United Arab Emirates.
The Eurasia Awards were held during the first edition of SiGMA Eurasia. Alongside premier networking opportunities, the gala event brought together more than 300 esteemed individuals from distinguished organizations to its inaugural debut. Moreover, the Eurasia Awards featured an art auction, with all proceeds diverted to the SiGMA Foundation.
Infocredit Group, a leading provider of credit and compliance risk solutions, empowers businesses with a complete range of KYC, Due Diligence and AML/CTF Compliance suites that aim at safeguarding organizations and mitigating their risk.
Our state-of-the-art solutions ensure that businesses can stay informed on all important changes affecting their clients or associates. With the digital onboarding ability, they can instantly verify ID Documents including the video/photo verification option.
Our KYC and Enhanced Due Diligence reports provide businesses with powerful insights on UBO data, company information, legal sources etc allowing you to make confident decisions when entering into new partnerships/expanding your client portfolios.
We would like to express our gratitude to the Sigma award committee for recognizing and awarding our KYC solutions!
For more information on Infocredit Group, visit www.infocreditgroup.com
tel. 22 398 000, email: info@infocreditgroup.com
About Infocredit Group
Infocredit Group is a leading provider of business intelligence and risk management solutions, including Credit Risk, AML/CTF regulatory compliance, Due Diligence and KYC.
Aiming to help businesses manage their risks emerging from credit exposure and regulatory compliance it offers a range of innovative, cost-effective, API-driven solutions, in affordable and efficient packages.
With a team of experts in the fields of Credit Risk Management, Debt Recovering, Call Center Services, AML/CTF compliance, KYC, Due Diligence, Fraud Prevention, ID Verification, ESG (Environmental, Social Governance) and Vocational Training, offers state-of-the-art customer-oriented solutions that meet the specific risk management needs of any organization.
With offices in Cyprus, Malta and UAE, with a presence in Greece and Romania, its services and solutions cover the international market for more than 50 years.