Thousands from around the world to participate in OPAP Limassol Marathon
12:51 - 17 March 2023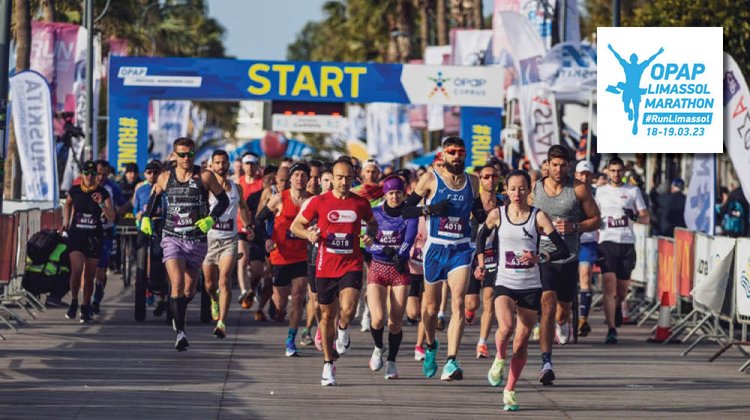 Taking place on Saturday and Sunday, 18 and 19 March, the OPAP Limassol Marathon is bringing thousands of runners and their supporters from Cyprus and around the world to the coastal city.
The event also includes a corporate race attracting participants from a large number of companies.
Speaking to CBN, the event's director, Spyros Spyrou, noted that, with 16,000 participants, the OPAP Limassol Marathon is the largest sporting event to be held in Cyprus.
The two-day event will, on Saturday include the Primetel 5km Corporate Race in which around 300 companies will be represented by some 10,000 runners, he revealed.
This will be followed by The Andrey & Julia Dashin Foundation Youth Race in which 2,000 children will be participating in two waves, with participants divided by their age.
"The children will be participating for free with each of them getting a medal, certificate, and running vest," Spyrou said.
Sunday's events will include the 42km Marathon Race, the 21km Muskita Half Marathon Race, Petrolina 10km Energy Race, and 5km City Race.
"His Excellency the President of the Republic Nikos Chistodoulides will be at the opening of the event and the children's race is under the auspices of the First Lady Philippa Karsera Christodoulides," Spyrou said.
He noted that the OPAP Limassol Marathon, "Is much more than a sports event as it promotes the spirit of volunteerism with some 700 volunteers trained to help out in all areas of the event."
As Spyrou shared, an online platform had also been created for runners to receive sponsorship from friends, family, and others with the proceeds going to charity.
"They select the charity in advance to ensure transparency and that the money goes where it should be. Last year, we raised 80,000 for charity," he added.
Spyrou also pointed out that the OPAP Limassol Marathon promoted Cyprus, and Limassol in particular, overseas. "Around 2000 runners have come from overseas, many accompanied by their family members and trainers, so we believe around 4000 tourists are currently in Limassol, especially for the Marathon," he said.
Visit www.limassolmarathon.com for more information on the event.