Greek Foreign Minister asks UN chief to step up Cyprus effort
08:03 - 17 March 2023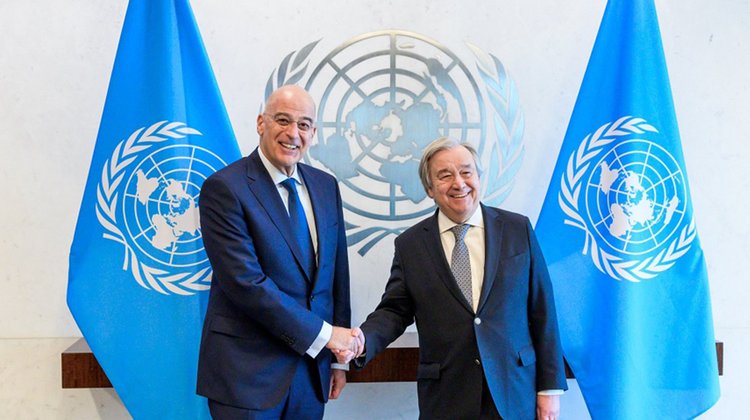 Greece encourages the UN Secretary General to step up efforts to resolve the Cyprus problem, always within the framework of UN Security Council Decisions, Greek Foreign Minister Nikos Dendias said after meeting with Antonio Guterres.
The two met at the UN headquarter to discuss the Greek candidacy for the election as a non-permanent member of the UN Security Council for the 2025-26 term.
Apart from the Greek candidacy, Dendias said that they discussed a broader set of issues, including Cyprus and the potential for a new initiative following Nikos Christodoulides' election as President of the Republic.
He also said that they discussed the situation in Ukraine and the Eastern Mediterranean as well as a range of issues on environmental protection and women's rights.
Asked if Guterres made any reference to the appointment of an envoy, Dendias pointed to the visit to Cyprus by the UN Under-Secretary-General for Political and Peacebuilding Affairs Rosemary DiCarlo. "The Secretary-General awaits her report before consulting about the next steps," he added.
Sources have told the Cyprus News Agency (CNA) that Greece hopes that the improved climate in relations between Greece and Turkey may also play a role for a new effort as regards the Cyprus issue.