CFOs look ahead at 18th CFO Management Forum
18:49 - 16 March 2023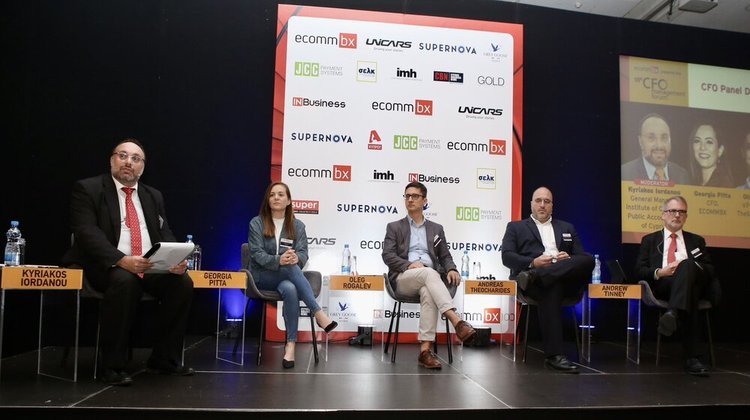 A panel discussion at the 18th CFO Management Forum and IN Business CFO Awards 2023 saw four CFOs share their expertise.
Under the moderation of Kyriakos Iordanou, General Manager, Institute of Certified Public Accountants of Cyprus, Georgia Pitta, CFO, ECCOMBX; Oleg Rogalev, VP of Finance, TheSoul Publishing; Andreas Theocharides, Director & CFO, PepsiCo International (Cyprus); and Andrew Tinney, CFO, Wargaming Group Limited, talk about their roles.
Pittas noted that the last two years had been particularly challenging for CFOs with pandemic and lockdown, and events in Ukraine and resulting market changes.
"This year started promisingly, and we started seeing light at the end of the tunnel but unfortunately this week we had to reconsider everything," she said, referring to the ongoing events in the international banking sector.
Pitta said it was important to always remain proactive and to quickly address unpredictable changes in the market.
Rogalev noted that TheSoul Publishing's business model was unique in many ways but also underlined that finance had to play a key role in any business.
Theocharides said that the recent tragedies in Greece, Turkey and Syria had reminded us of the importance of human relationships suggesting that these need to remain part of business. Tinney
On his part, Tinney provided four interestingly entiltled points expressing how he believes companies can survive.
"Don't be an ostrich or a turkey, only the paranoid survive. A lot of companies have ostriches that prefer not to know what's going on around them. Also the turkey, they think everything is fine and then Thanksgiving comes. Being paranoid is part of your job as CFO," he said.
Tinney's next point was entitled 'Know your tulipsm,' where he encouraged businesses and individuals to recognise bubbles for what they were, referencing the 1634 tulip bubble in Amsterdam. He said this was also something many central banks had forgot during Covid when they began printing money but were now surprised by inflation.
With the phrase, 'Cash is king' Tinney reminded the attendees that some companies did not know which bank their fu know which bank their fu immediately know which bank their funds were in, while some also kept the majority of their funds in the same place.
Lastly, he noted that planning was key. "These are the things that will keep you in business and help your business thrive," Tinney said.
The the 18th CFO Management Forum was presented by ECCOMBX.