DiCarlo reiterates UNSG's commitment to supporting a resolution of the Cyprus issue
13:04 - 15 March 2023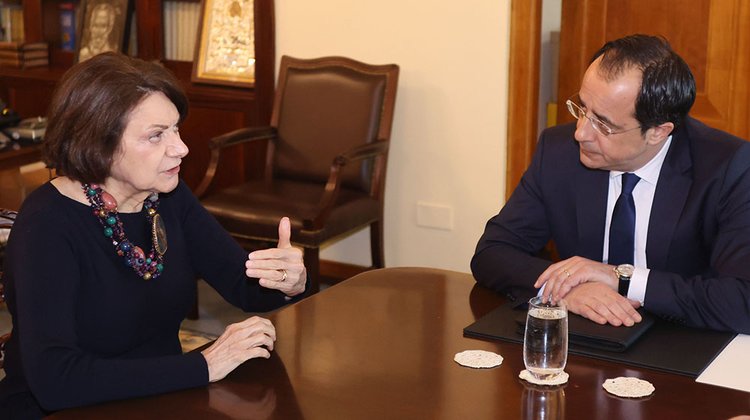 UN Under-Secretary-General for Political and Peacebuilding Affairs, Rosemary DiCarlo, has reiterated the commitment of UN Secretary-General, Antonio Guterres, towards supporting a resolution of the Cyprus issue.
In a short statement after a one-hour Wednesday, 15 March meeting at the Presidential Palace, with the President of the Republic, Nikos Christodoulides, DiCarlo said that she had an excellent meeting with him, adding that she congratulated him on his election and wished him every success during his term of office.
"We discussed at length the Cyprus issue and we just want to reiterate the commitment of the Secretary – General to supporting a resolution of the Cyprus issue," she added.
Moreover, she noted that after that she would meet with Turkish Cypriot leader, Ersin Tatar, "to discuss further a way forward."
In the afternoon DiCarlo will inaugurate a photo exhibition about the participation of women in Cyprus talks, outside Ledra Palace, and with meet with a bicommunal group of women.
Later on she will meet with the members of the Committee on Missing Persons in Cyprus (CMP).
On Thursday she will visit Nicosia buffer zone. She will also fly with a helicopter along the ceasefire line from Nicosia to Famagusta. In Famagusta she will meet with Slovak peacekeepers and she may also visit the fenced off city of Famagusta (Varosha).
DiCarlo will meet on Thursday with a bicommunal group of young people.
She will leave the island on Friday morning to return to New York. Next week she will be flying to Brussels escorting the UN Secretary-General there.
(Source: CNA)