Ahmed Aly: Cyprus is an ideal location to do business in
07:30 - 10 March 2023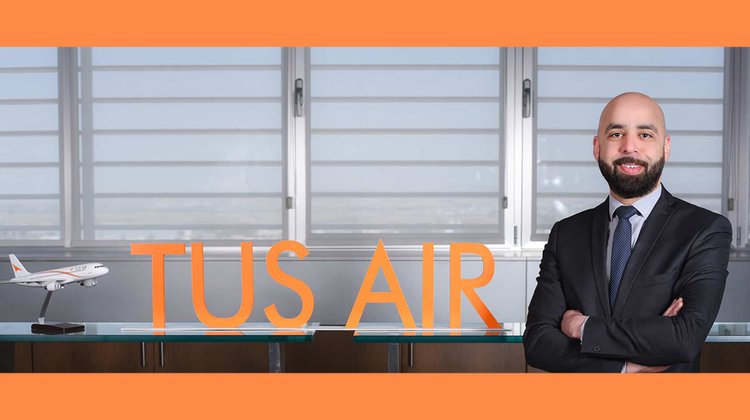 The CEO of TUS Airways reveals that 2023 is anticipated to be a record-breaking year for the airline as it makes the most of Cyprus' favorable tax and regulatory environment, talented workforce and enviable economic growth.
Can you tell us more about your company, when you were established in Cyprus and how many offices/ members of staff you currently have?
TUS Airways is the leading and largest Cypriot airline founded in 2015 - firmly placing it as the longest serving Cypriot airline in operation today. The airline has a clear vision to become a key player in the East Mediterranean region and offer enhanced year-round connectivity from Cyprus to Europe, the Middle East and Africa. The airline operates a modern fleet of 180-seat Airbus A320 aircraft offering our guests an innovative product to a growing number of destinations … all whilst experiencing true Cypriot hospitality onboard.
In 2022 we carried over 1,100% more guests across the entire TUS Airways' network than in 2021. During that year, the airline successfully operated over 600% more flights than the previous year and grew its fleet by 150%. This was, by no means, an easy feat and was only possible through the support of our shareholders, working closely with our partners in the hospitality, the Cypriot Ministries of Transportation and Tourism and of course the dedication of the fantastic team of 150+ who make up the TUS Airways family based in Larnaca.
What do you believe sets your company apart from its competition?
Our team and the values we hold.
Our "Χρυσοπράσινο φύλλο ριγμένο στο πέλαγο" (transated as "Golden-green leaf thrown into the open sea," and describing Cyprus in the song by Grigoris Bithikotsis) deserves a home-grown airline that not just offers an exciting and innovative product but more importantly promises reliability, presence into the future and affordability. Since our humble beginnings operating 34-seat regional aircraft, we have remained committed to ensuring our island remains connected to the world even when faced by the most challenging global events, which reaffirms our resilience, commitment and successful disrupter business philosophy.
How has your experience of doing business in Cyprus been and would you recommend it to other foreign interest companies looking to relocate?
I have been in Cyprus for under a year now and have found the Republic to be an ideal location to do business. Whether it is the favorable tax and regulatory environment, talented workforce or enviable economic growth when compared to its EU peers.
At TUS Airways we have both Cypriot and international shareholders - all leading figures in the aviation world - which attests to the strong business opportunities and business-friendly environment on this beautiful island at the crossroad of Europe, Asia and Africa.
What is your view of your sector (locally and on a global level) both as it is today and its potential for growth?
As an island nation, Cyprus and air travel are intrinsically and forever interlinked. Whether it is to enable the burgeoning and vital tourism sector, support commerce and cargo flow or simply to connect the Cypriot community to the world … air travel is critical lifeline.
But at TUS Airways we do not just invest in safely transporting our guests but in investing in our people and community. This summer will have a workforce of over 250 and indirectly support over 2,000 jobs in the country. We also take our social responsibility and actively serving all members of our community those who may face unique challenges or limited opportunities.
Where do you see your company in five years? Are there any immediate plans for your company you can reveal, for example new products, services, plans for expansion?
What are building to today is something truly special … an innovative and unique airline driven by industry-leading values whilst proudly flying the Cypriot flag. Since our humble beginnings in 2015, we have persevered and expanded through the most challenging period in aviation history and have gone from operating 32-seat aircraft to modern 180-seat A320 aircraft, from serving a few regional destinations to now offering a growing list of international destinations.
2023 will be a record-breaking year for the airline across all matrices. This summer we will be operating to over 20 destinations across 9 countries. Out of Cyprus we will bolster our already airline leading position on flights to Tel Aviv with up to 5 flights per day to Larnaca and Pafos - a market that TUS Airways played an instrumental role in last year to welcome a record number of Israeli tourist to the island. We also recently launched flights to Heraklion (Crete) and this summer we will be operating to at least 5 other Greek destinations (including Preveza, Chania, Corfu, Kefalonia). In the coming months flights to Paris will resume from Larnaca which will be complemented by the launch of new flights to Bratislava, Kosice, Amman and a couple of more exciting new destinations that will be announced very soon.
Our vision is to be a leading airline in the East Mediterranean with a wide network not only from Cyprus but also Greece and Tel Aviv. The airline itself is part of a large successful international aviation grouping, a fact that will be leveraged going forward as we grow our fleet, route network and number of employees to achieve our vision in a sustainable and innovative manner.
How much focus do you put on CSR and being part of the local community?
The world has changed and in 2023 corporate social responsibility can no longer be viewed as a choice but a moral duty enshrined in the very DNA of an organisation. We at TUS Airways take our responsibilities towards our community and environment very passionately. Whether this is ensuring equality within the organisation, engaging and supporting all members of our community, sustainable economic practices including with our partners or taking tangible steps towards environmental sustainability.