Exness Affiliate Program celebrates three years of success
13:28 - 01 March 2023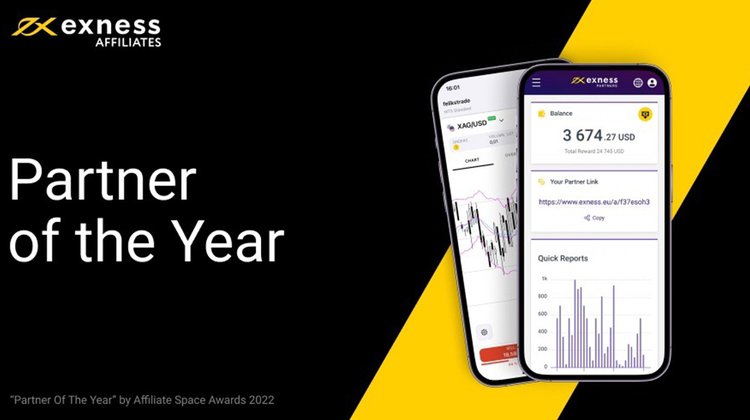 The Exness Affiliate Program has become one of the most talked about in the brokerage industry in the space of just three years. The Exness Affiliate team, which celebrated its three-year anniversary in December 2022, has achieved tremendous growth, building a leading Affiliate Program with a real market edge.
The Limassol-based Exness Group is an international retail FX group of brokers that offers financial instruments, including currency pairs, metals, cryptocurrencies, energies, indices, and stocks. Exness Affiliates started in 2019 as an in-house affiliate program run by the biggest multi-asset broker in the world. Exness has been reporting more than $2.5 trillion in monthly trading volume for many months now and counts over 350,000 active clients.
The Exness Affiliate Program is offered in two distinct and competitive variations: CPA (Cost Per Action) and CPL (Cost Per Lead), with the CPA offering one of the highest daily payouts in the industry. Both the CPA and CPL provide worldwide traffic reach from five top regions: LATAM, MENA, SSA, APAC, and CIS.
Over the past year, it has set top-level commissions in the finance industry. Affiliates can earn up to $1,850 for the CPA and up to $45 for the CPL, depending on the country and deposit amount. These payouts are lucrative for affiliate marketers.
The team also launched a game-changing feature in 2022: daily payouts for CPA Affiliates. Affiliates that qualify can request and receive their payouts within the same business day.
Since the program's inception, it has expanded its reach from 18 countries to 86, while the list of countries covered is also constantly being updated to attract more partners and clients.
Affiliates can use any source of conversion they prefer, from mobile to push all the way to social media. They can also link and optimise campaigns across all major platforms using flexible integration tools.
They have access to various promo materials in different formats and languages, with a choice from over 3,000 banners, videos, landing pages, GIFs and logos covering popular trading topics, ready to be used.
Exness Affiliates has been recognised by some of the most prestigious organisations in the affiliate community. The team won 2 awards in 2022, and 4 in total since 2021: "Best Affiliate Program" by Forex Traders Summit, Dubai 2021; the "Best Affiliate Program" award at the Jordan Forex Expo in 2021; "Best Affiliate Program: Fintech" by World Traffic Awards in 2022; and "Partner Of the Year" by Affiliate Space Awards, 2022.
"We're so proud of what we have achieved at Exness Affiliates in just 3 years. We are one of the top players in our affiliate niche, finance. We're not afraid to change the rules: we offer the highest payouts for CPA affiliates, and we pay them every day," said Sergey Yarovoy, Exness Affiliate Team Lead. "The program is constantly improving to adjust to the needs of modern affiliate marketers. We have expanded our GEOs to 86 countries, accept any traffic sources and provide promo assets for ad campaigns. And this is just the beginning," he added.