Importance of domestic production raised at 8th Greek Raw Materials Community Dialogue
10:36 - 20 November 2023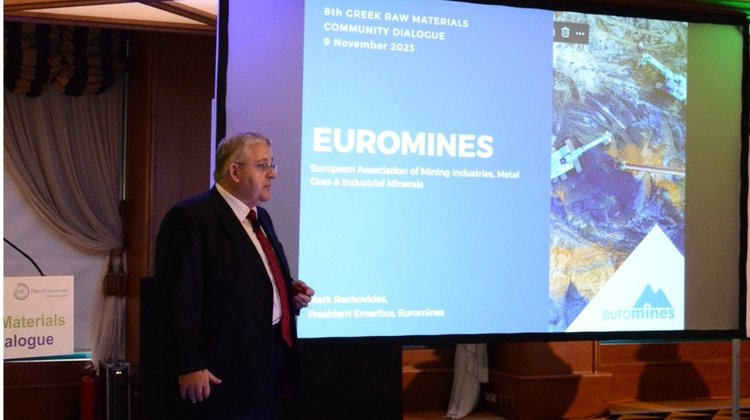 The importance of the Critical Raw Materials Act in strengthening the uptake and deployment of breakthrough technologies in strategic raw materials and green energy was the main focus of the 8th Greek Raw Materials Community Dialogue, which was held in Athens on 9 November 2023.
Major raw materials producers and manufacturers from Greece and other Regional Innovation Scheme (RIS) countries, discussed the role of raw materials for the sustainable development and security of Eastern and South-Eastern Europe and the investment potential of the EU raw materials industry and its decarbonisation.
The Critical Raw Materials Act, which is at the heart of the EU's effort to address strategic dependencies in critical raw materials and create resilient, and sufficiently diversified value chains, was passed by the European Parliament in September 2023, and is now the subject of talks between the European Parliament, member states and the European Commission.
The Act aims to strengthen all stages of the European critical raw materials value chain, diversify the EU's imports to reduce strategic dependencies, improve the EU's capacity to monitor and mitigate risks of disruptions to the supply of critical raw materials, and improve circularity and sustainability. Moreover, it sets benchmarks to increase domestic capacity for the extraction, processing and recycling of key minerals.
Representing Euromines, the recognised representative of the European metals and minerals mining industry, Mark Rachovides, Chairman of Venus Minerals, a Cyprus-based exploration company, talked about the Critical Raw Materials Act and the roadmap to its adoption by member states.
In his presentation, Rachovides said that positive results should be expected from the upcoming talks, regarding the planning and zoning of mining activities, by-products of more common metals being recognized as of strategic importance and the Act being recognized as an important part of other EU legislation.
He was also hopeful that regulatory changes would lead to a change in behaviour and a recognition of the necessary trade-offs that need to take place so that the EU can successfully transition to a green economy.
Rachovides pointed out that "a paradigm shift is visible, as the political momentum is now in favour of mining, and downstream users are starting to recognize the value of an EU-based mining industry".
This paradigm shift is also evident in Cyprus, where Venus Minerals plans to start developing the island's resources, aiming to establish the island as a key supplier of raw materials to the EU.