Ιnvest Cyprus: Investments, procedures and basic criteria
09:39 - 20 November 2023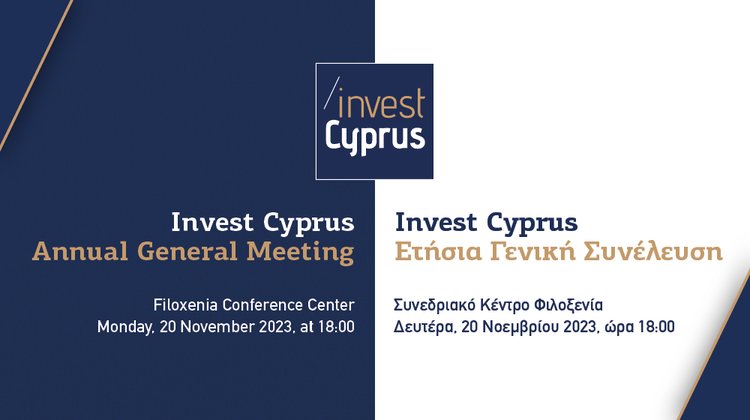 Cyprus' potential regarding the investment climate and the economy will be elaborated upon by Invest Cyprus at the Annual General Meeting. The Annual General Meeting will take place on Monday, 20 of November 2023 at the Filoxenia Conference Center.
During the Annual General Meeting, guests will have the opportunity to listen to Invest Cyprus elaborate on what constitutes attractive and investable projects for foreign investors in Cyprus. The CEO of Invest Cyprus, Mr. Marios Tannousis will deliver a presentation outlining the processes and key criteria that need to be met in order to deem a project investable.
In addition, through its Annual General Meeting, Invest Cyprus aims to present this year's strategy, actions and initiatives as well as its upcoming plans for the year ahead.
The Deputy Minister to the President, Ms. Irene Pikis will address the Annual General Meeting on behalf of H.E. the President of the Republic, Mr. Nicos Christodoulides, while the Minister of Finance, Mr. Makis Keravnos will follow with his address. Invest Cyprus Chairman, Mr. Evgenios Evgeniou will also address the Annual General Meeting.
A cocktail reception will follow.
Invest Cyprus
Invest Cyprus (Cyprus Investment Promotion Agency) is the investment authority of the Government of Cyprus dedicated to attract and facilitate foreign direct investment into the country. In close collaboration with all governmental authorities and public institutions, as well as the private sector, Invest Cyprus is the country's lead agent in establishing Cyprus as a world-class destination for international business activity and investments. Invest Cyprus' mandate is to raise awareness of Cyprus as a destination for FDI across the globe, providing certainty around all aspects of operating a business in Cyprus and supporting potential investors in developing their business case for investment into the country
Information
For more information follow the link here.