President: Keeping construction industry on growth trajectory a priority
10:16 - 17 November 2023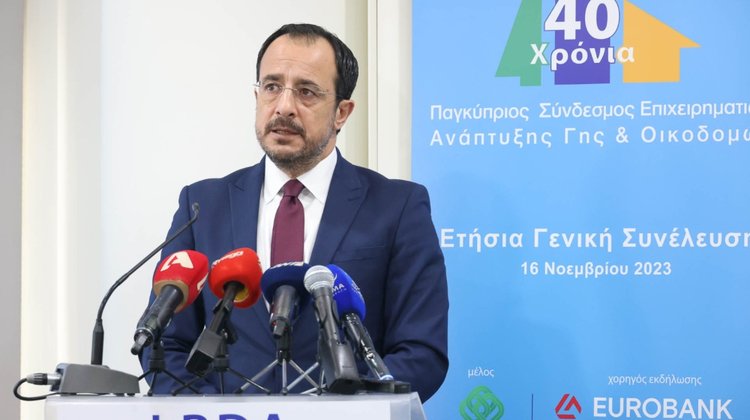 President Nikos Christodoulides said that the government's priority is to maintain and strengthen the construction industry to continue on its growth trajectory, as he addressed the General Assembly of the Cyprus Land and Building Developers Association.
The event took place in Nicosia in the presence of Ministers, party representatives, permanent secretaries of ministries, and representatives of employer organisations among others.
"Taking into consideration your long-term contribution to our country's economy and society, the government's priority is to strengthen the construction industry and keep it on a growth trajectory, because your growth ensures the adequate and decent housing of the citizens, which is of primary concern for us," he said.
The President noted that housing is one of society's biggest challenges, especially for the new generation.
To this end, he said, the Ministry of the Interior recently prepared and announced a new comprehensive housing policy of a human-centered and social nature, which includes short- and medium-term plans as well as a series of measures to address the housing problem in the long run.
President Christodoulides referred specifically to the "Build to Rent" Scheme on private land, calling it an innovation for Cyprus, which, in combination with the revision of urban planning incentives and the regulation of rapid licensing, will allow the development of a large residential area in the coming years, while offering a number of units of quality and affordable housing.
He also noted that the state's aim is to reduce bureaucracy and upgrade the quality of service to citizens and society at large, which is why it has established and operates a modern, reliable and easy-to-use electronic land information system for every citizen, with the information now available with easy access and transparency.
Moreover, he said that an effort is being made to simplify even more time-consuming procedures, and referred to a new procedure expected to be implemented by the Department of Lands and Surveys in January 2024, through which the title deeds of new horizontal and vertical developments will be issued in three months from the date of submission of the completed application.
The President stressed the clear political will of the government that aims not only to support the construction and building industry, but also to strengthen it even more, promoting reforms, changes and improvements that will create an attractive environment for business stability.
Furthermore, President Christodoulides assured that both himself and the Ministers dealing with issues of the sector, wish to continue and strengthen the excellent cooperation with the players in the sector and are willing to continue to support them and adopt realistic initiatives and proposals.
(Source: CNA, Photo: PIO)