Minister presents Cyprus as "technology and innovation hub" at London event
11:57 - 15 November 2023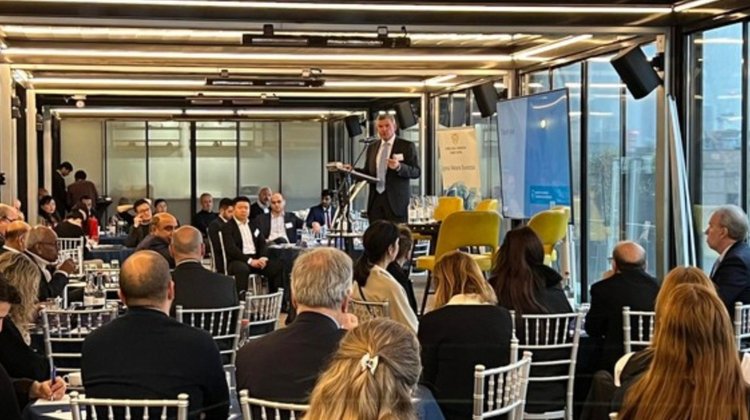 Energy, Commerce and Industry Minister George Papanastasiou highlighted Cyprus' standing as an emerging technology and innovation hub, as he addressed an audience of London professionals and tech firms' representatives at an event held by the Cyprus High Commission Trade Centre.
Papanastasiou said that trade in goods between Cyprus and the UK increased by 10% in 2020 year-on-year, and that it was the fourth consecutive year where exports of Cypriot products to the UK, mainly dairies, potatoes, gold and pharmaceuticals, had increased.
Another strong market, he added, is the tech market.
He presented the audience with the reasons for choosing Cyprus for international business: the positive economic outlook; access to educated workforce; high quality of life; a reliable business support services; a modern legal and regulatory framework; low cost of doing business, along with a strong business ecosystem and attractive and transparent tax regime; the strategic location; and being an EU and Eurozone member country.
He also highlighted the new strategy for attracting foreign companies, which consists, inter alia, of new tax incentives and laws for facilitating business investments.
More specifically on innovation, Minister Papanastasiou said that Cyprus ranked ninth in the EU in innovation performance for 2022 and 28th among 132 countries listed in the Global Innovation Index.
As for the island country's tech ecosystem, the Minister underlined the active presence of nine research institutes, seven centres of excellence, 12 universities, more than 400 start-ups, 4,000 entrepreneurs 2,500 researchers, and many investment funds.
He also referenced the 'Cyprus Vision 2035" initiative, aiming to make Cyprus the best country to live, work, and do business in; the digital nomad visa programme; and the successful launch and operation of the Business Facilitation Unit.
(Source: CNA, Photo: PIO)