CIFA's Panikos Teklos advises investment world to build business resilience
Donna Kaparti 10:07 - 24 October 2023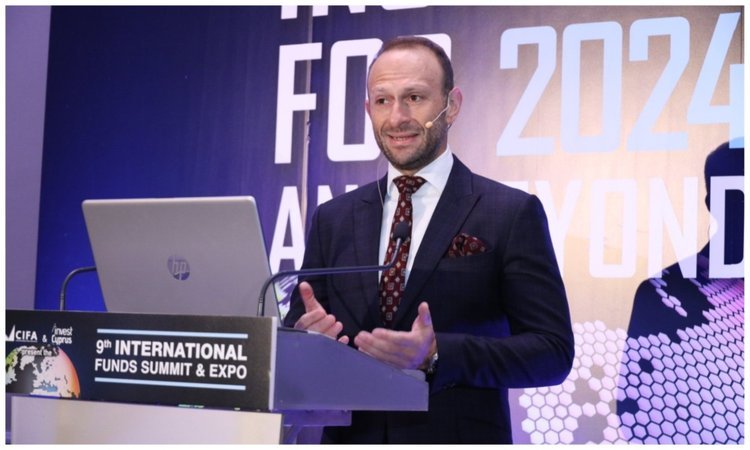 Customer demands are very important in terms of the shape the industry will take in the near future, said Panikos Teklos, Vice President of the Cyprus Investment Funds Association (CIFA,) advising investment industry stakeholders to be ready for anything.
In his address at the 9th International Funds Summit & EXPO organized by CIFA and Invest Cyprus currently underway in Limassol, Teklos sent clear messages to the investment world, calling on them in today's circumstances to expect the unexpected.
He advised members of the investment world to be ready for everything that comes their way and have the operational resilience to adapt.
The Summit's Chairman then proceeded to list some of the most important trends and challenges of the industry.
Among the main trends of the sector, Teklos records constant changes and rapid developments. He also commented on the huge, upward trend in retail trade, as well as the large number of regulations for consumer protection.
The use of technology and the obligation to deliver reports and the application of compliance rules are still some of the trends of the modern era, he noted.
Among the main points Teklos, also mentioned sustainability and everything that surrounds the above which, on the one hand, enhances transparency and on the other, increases costs.
Customer demands are very important in terms of the shape the industry will take in the near future, he said, while also emphasising cross-border distribution and the need for its further facilitation.
The 9th International Funds Summit & Expo welcomes leading fund managers and fund administration specialists from across the world to discuss the evolving regulatory and increasingly competitive landscape in the global asset management sector.
Taking place on 23-24 October at the Parklane, a Luxury Collection Resort & Spa, in Limassol, the summit has a packed agenda, with key topics including an overview of investment vehicles and asset classes, asset management and financial stability, as well as cross-border distribution.
There will also be an extensive discussion around sustainable investing, which is key when it comes to investing nowadays, as well as FintTech and RegTech in the investment funds industry. The latter will also be discussed in depth, with a special emphasis on managing funds in the AI era and the use of technology to optimise investments.
Coinciding with the Summit is the 36th International Investment Funds Association (IIFA) Annual Conference 23-25 October) being held by the International Investment Funds Association at the same venue.
(Source: InBusinessNews)