Finance Minister vows to absorb "every single euro" from EU funds
08:33 - 23 October 2023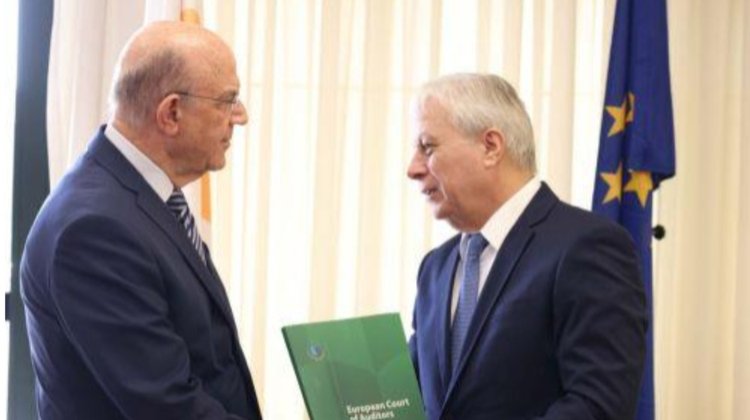 Finance Minister Makis Keravnos said the government will try to absorb "every single euro" from EU Funds, to support the growth of the local economy.
He was talking at a handing over ceremony for the European Council of Auditors' (ECA) annual report for 2022, which was delivered by Cypriot ECA member Lefteris Christoforou.
According to Christoforou, in 2022, Cyprus was in the top four countries when it came to absorbing EU funds with 93%, with real potential of reaching 100%. The EU member states' average capacity rate is 70%, he added.
As Christoforou explained, Cyprus contributed €209m to the EU budget in 2022, but received €458m in EU funds and an additional €158m from the EU Recovery and Resilience Facility.
He also highlighted that Cyprus had no findings regarding issues of financial management and good governance audit, while the findings index for Cyprus is one of the lowers showing the effective operation of the Ministries and the governments, and the Civil Service as well.
Noting that Cyprus will receive €3.01b from the EU Multiannual Financial Framework and the Recovery and Resilience Facility that would support the Cypriot economy and society, Christoforou said Keravnos stated emphatically both the government's and the Ministry's focus to work with Parliament towards utilising these funds in the most effective way.
On his part, Keravnos said the government welcomes any audit "that would assist us to operate in the correct framework". He added that he was pleased the report shows that Cyprus is functioning with credibility and utilising the money received by the various EU funds in the right way and with a very satisfactory absorption rate.
"Let me stress that we, both as the government and the Ministry of Finance will continue to work in this way to absorb each and every single euro to support the growth of the economy even further," he concluded.