Panel discusses how sanctions have evolved over the years
14:10 - 20 October 2023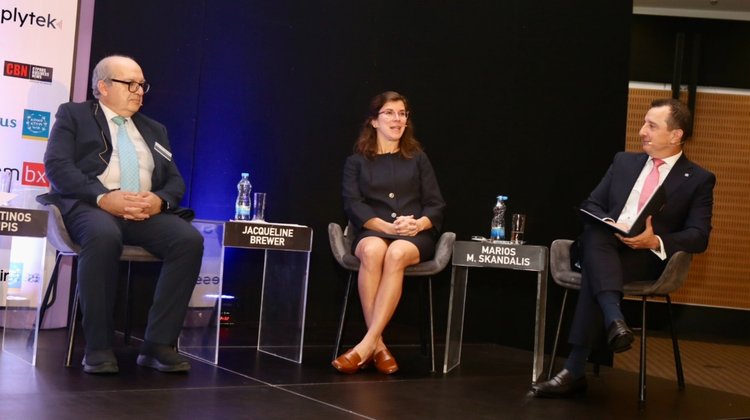 A panel of esteemed experts discussed the use of sanctions and how they are expected to evolve in the future, during the 9th International Compliance Forum.
The discussion, titled: "From designated nationals to complex sectoral sanctions. What is next?", was moderated by Marios M. Skandalis, Chief Compliance Officer-Bank of Cyprus Group and Chairman, Cyprus Integrity Forum; and was joined by Jacqueline Brewer, Section Chief, OFAC Enforcement Division, U.S Treasury Department, Giles Thomson, Director of the Office of Financial Sanctions Implementation (OFSI) and Economic Crime, HM Treasury, UK, and Constantinos Trikoupis, Assistant Director, Head AML/CFT & Financial Conduct Department at the Central Bank of Cyprus.
Jacqueline Brewer said that sanctions used to be simpler and thus easier to implement, but lately sanctions are becoming more targeted and thus more complicated, but more effective as well, since they are more focused on specific sectors.
Giles Thomson said that the latest Russian sanctions, after the war in Ukraine are unprecedented in size and complexity and it has been difficult for entities to keep up with them, especially in the early days.
Constantinos Trikoupis said that comparing 2014 sanctions against Russia, to 2020 sanctions, we can see the volume and broadening of the type of sanctions imposed. He noted that Cypriot entities do not only comply with EU's sanctions, but also comply with OFAC and OFSI sanctions. He stressed, however, the need for these, to be as harmonised as possible, in order to be more effective and easier to implement.
He said that CBC monitors regulated entities to make sure they have the resources necessary to be able to implement sanctions.
Asked regarding the cost to Cyprus' economy, caused by the sanctions, he noted that, although there is no official study, there doesn't seem to be a material impact on Cyprus' economy, caused by the sanctions.
The International Compliance Forum is one of the biggest conferences of IMH, and every year it tackles the most important developments around regulatory compliance issues that concern professionals in the field as well as the largest local and international companies. This year's edition is taking place on 20 October at the Filoxenia Conference Centre in Nicosia.