BoC's Skandalis: The right culture is key when it comes to compliance
12:04 - 20 October 2023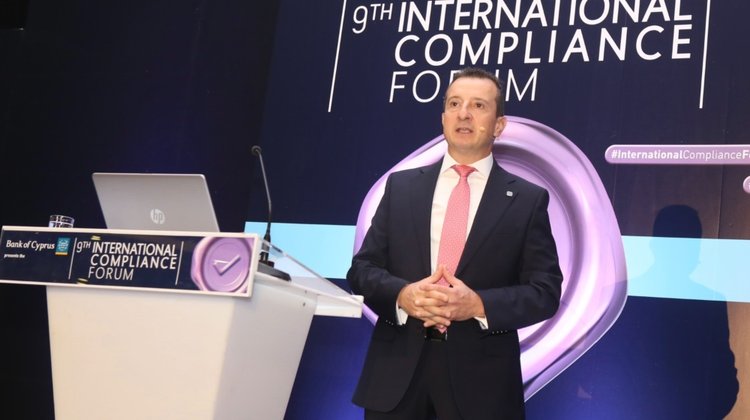 Culture can be an asset as well as a risk to an organisation, Marios Skandalis, Chief Compliance Officer at Bank of Cyprus' (BoC) Compliance Division, said addressing the 9th International Compliance Forum taking place in Nicosia.
"Values and corporate cultures, that will ensure the right ethos and integrity are in place, will be the key drivers guiding the development of tomorrow's competitive advantages," he told delegates. "They help solve the paradox of modern management, leadership and business strategy, of staying highly flexible yet at the same time unmistakably, distinct. This requires the ability to build high performance teams in which diversity is channelled in a manner which reduces rather than increases complexity. It is precisely this task of reducing complexity by raising diversity where ethical values enter the scene, evidenced by the socio-psychological downsides of the phenomenon of compliance."
Traditional approaches in establishing ethical corporate cultures have failed and new approaches have been developed which touch more upon the spirit of such a goal rather than the process to be applied, said Skandalis.
Traditionally an attempt to establish an ethical culture would involve the CEO commissioning the Human Resources sector to produce an effective company culture, he said. "HR would design a campaign drafting a relevant mission statement with specific core values that the CEO and senior management would develop and implement. HR would also introduce some employee perks like morning breakfasts, hiking expeditions, etc. Also, they would introduce annual staff surveys and report results back to the CEO and even the Board of Directors. And then with their culture-building to-do lists completed, the CEO and HR would move on to other priorities."
This approach no longer works for several reasons, he explained. "For one, Covid-19 pandemic has upended how leaders interact with employees and how co-workers connect with each other."
The need to adapt quickly and remain flexible during the pandemic has also revealed the ineffectiveness of a top-down leadership approach, Skandalis pointed out. Moreover, company culture has grown in importance, thanks to recent cultural priorities like the push for more diversity, inclusion and the continuing battle for talent.
"Culture has become a strategic priority with a significant impact on all levels of an organisation," he said. "It cannot just be delegated and compartmentalized in any way anymore."
As such, he said a new culture-building approach is being pursued by some organisations, where everyone leads and everyone is accountable.
"Such a model entails shared responsibility for culture throughout an organisation, involves different people and functions within the organisation, playing different roles in developing and maintaining the culture," said Skandalis. "In this context, culture can be defined as the ways people in the organisation behave and the attitudes and beliefs that dictate those behaviours… In this new culture-building model, everyone is responsible for cultivating the desired culture and the approach assigns different roles in defining and developing this desired culture."
He went on to explain that the real essence of having the right ethical culture in place is not merely the fact of behaving correctly as a corporation, but rather that this right corporate behaviour will lead to improved business performance results on a sustainable basis.
Finally, BoC's Compliance Officer stressed that a company's culture needs to be adaptable. "There are many external factors exerting pressure on any business as well as internal changes such as leadership transitions and expansions," he elaborated. "The culture needs to change to keep up with these changes. Attempts to lock in a certain type of culture over the long term at best will fail. At worst, they will hinder the organisation's competitiveness, innovation and sustainability."
To achieve the desired culture, everyone must have a clear, consistent, common understanding of it, and above all, everyone must work together in a deliberate and coordinated effort to cultivate it, said Skandalis.
"Everyone may not agree with the changes, but they must understand them and agree to support them," he said. "While each person or group is accountable in their own way, everyone shares an equal accountability for achieving the desired culture.
The International Compliance Forum is one of the biggest conferences of IMH, and every year it tackles the most important developments around regulatory compliance issues that concern professionals in the field as well as the largest local and international companies. This year's edition is taking place on 20 October at the Filoxenia Conference Centre in Nicosia.