Tototheo Maritime celebrates a standout presence at Maritime Cyprus 2023
12:58 - 18 October 2023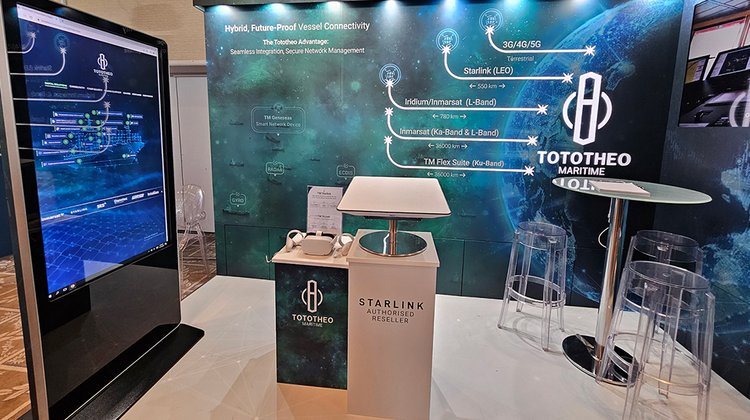 Tototheo Maritime, described as a leading provider of innovative communication and maritime technology services, has made an indelible mark at the recently concluded "Maritime Cyprus 2023" event.
A series of powerful product displays, interactive sessions, and influential panel participation underlined the company's unwavering commitment to maritime excellence and thought leadership, a press release from the company notes.
Tototheo Maritime presented a blend of innovative technology, industry know-how, and a vision for the future. Highlighting their expertise as both a connectivity services provider and an integrator, Tototheo demonstrated its holistic approach towards maritime solutions. More specifically, visitors at the Tototheo exhibition booth were introduced to a number of Tototheo's flagship services: 3G/4G/5G (Terrestrial Connectivity), Starlink (LEO Satellite Internet), Iridium & Inmarsat (L-Band Services), Inmarsat (Ka-band Solutions), TM Flex Suite (KU Band Connectivity).
In an impressive display, Tototheo also showcased the Starlink antenna, the company's press release continues. This hands-on encounter provided attendees with an unprecedented opportunity to familiarize themselves with the cutting-edge Starlink service. Additionally, an interactive screen detailing a vessel equipped with Tototheo's comprehensive range of services brought the company's capabilities to life. This immersive platform amplified user engagement, offering a richer understanding of what Tototheo brings to the maritime table. Visitors at Tototheo's booth were treated to an immersive journey with the TM 360VR service. By putting on VR glasses, they found themselves aboard a demo vessel, offering a glimpse into Tototheo's vision for the maritime experiences of tomorrow.
As also noted by the press release, in the realm of thought leadership, Tototheo's presence was strong with contributions to pivotal panel discussions. COO Natalia Bury Loyal steered the insightful panel, "Diverse Deck, Guided Journey: Upskilling in Modern Maritime". Co-CEO Despina Panayiotou Theodosiou took the helm of the discussion, "The future seas: advancing maritime technology for enhanced safety". Theodosiou also delivered a captivating keynote address at the CSN ICT Conference, meanwhile, Bury Loyal enlightened attendees on the transformative potential of AI in business operations and goal realizations.
Tototheo Maritime's standout presence at "Maritime Cyprus 2023" is a testament to its leadership in maritime connectivity solutions and its vision for the future, the press release concludes.
For more information about Tototheo Maritime, please visit www.tototheo.com