Cyprus Airways launches flights to Nice
09:43 - 18 October 2023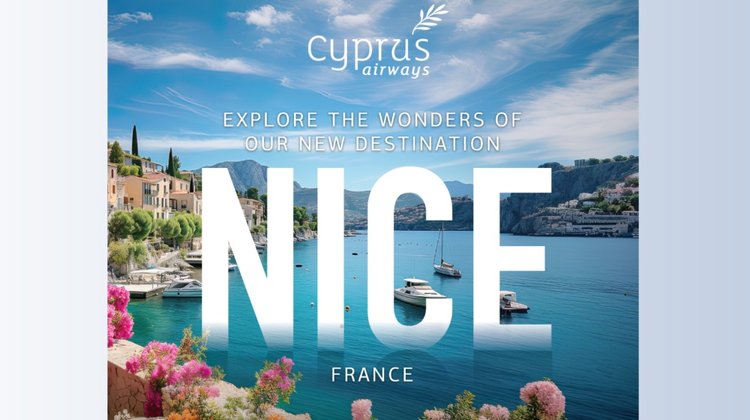 Cyprus Airways has announced the launch of its new route Nice in France. Effective 12 December 2023, travellers will have the opportunity to explore the stunning French Riviera with twice-weekly flights operating on Tuesdays and Thursdays.
This latest addition to Cyprus Airways' ever-expanding network reaffirms the airline's commitment to providing its passengers with access to unique and sought-after destinations, it said.
Paul Sies, CEO at Cyprus Airways, said: "At Cyprus Airways, we believe that the journey is just as significant as the destination. With the inclusion of Nice to our network, we emphasize our dedication to offering unparalleled destinations to our esteemed customers. Our state-of-the-art Airbus A220 fleet ensures that each trip with Cyprus Airways is not merely a ride. It's a journey of comfort, sophistication, and a testament to our relentless pursuit of innovation and sustainability regardless if you travel in our economy or unparalleled Business Class."
According to the Cyprus flag carrier, aboard its Airbus A220, passengers can expect a superior travel experience marked by spacious interiors, modern amenities, and an eco-friendly design. It adds that the aircraft's advanced features are in line with Cyprus Airways' sustainable vision and pledge to reduce its carbon footprint.
With sales already underway, travellers can now secure their seat to Nice, from where Monaco, Marseille and Genoa are also easy to reach.
Sun and sea or skiing adventures are all within driving distance from Nice, which boasts a vibrant culture, historic landmarks, and breath-taking coastlines.
To book a flight or learn more about this new route and other Cyprus Airways destinations, visit www.cyprusairways.com
Cyprus Airways' winter schedule offers flights to Athens, Beirut, Dubai, Tel Aviv, Yerevan, Paris CDG, Milan Malpensa and Zurich.