New initiative launches for Cyprus' agrifood innovation ecosystem
13:13 - 17 October 2023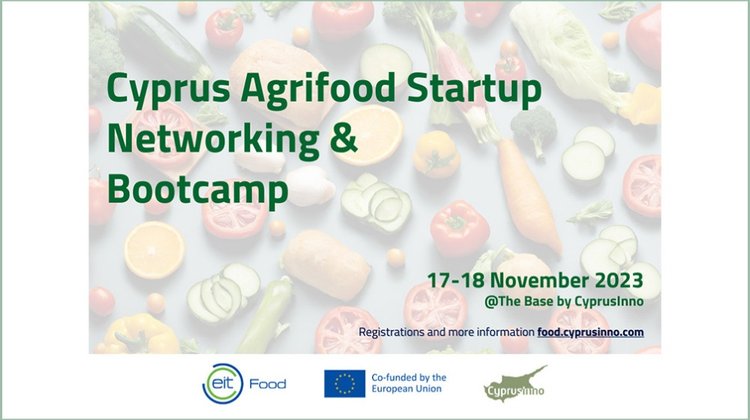 CyprusInno, with the support of EIT Food, is hosting the Cyprus Agrifood Startup Networking & Bootcamp event aimed at connecting the agrifood ecosystem in Cyprus while also supporting early-stage agrifood founders, or those with an idea in the agrifood space, to evolve their businesses.
The two-day event will feature an interactive panel discussion and a networking reception on day one, followed by a startup bootcamp on day two with hands-on interactive training and inspirational talks from existing agrifood entrepreneurs, all while educating about available EIT Food programs and activities. The event will take place at The Base by CyprusInno on the 17 and 18 of November.
The first day of the event, which will take place on the evening of 17 November, will feature a presentation of EIT Food programmes and activities. An interactive panel discussion will follow with key stakeholders who will discuss the topic of Cyprus Agrifood Ecosystem: Challenges and Opportunities with an audience Q&A session, ending in a networking reception.
The second day of the event, which will take place on 18 November, will feature a full day bootcamp of interactive workshops on funding opportunities, branding and designing strategy, and pitching - all from the perspective of food entrepreneurship - delivered by expert trainers as well as experienced food entrepreneurs. Interactive inspirational talks will be given by experienced food entrepreneurs at the end of the day followed by a participant Q&A session. The bootcamp is for those at any stage - whether they have a new idea for an agrifood startup or they are currently running an agrifood startup. Those interested can register/apply for either or both days by Sunday, 12 November, 2023, at 23:59 EEST directly at this link https://forms.gle/4vcF7Rno5mhPfWrRA.
For more information about the event, visit https://cyprusinno.com/food/