Parsectix to hold hands-on workshop with AWS
14:48 - 16 October 2023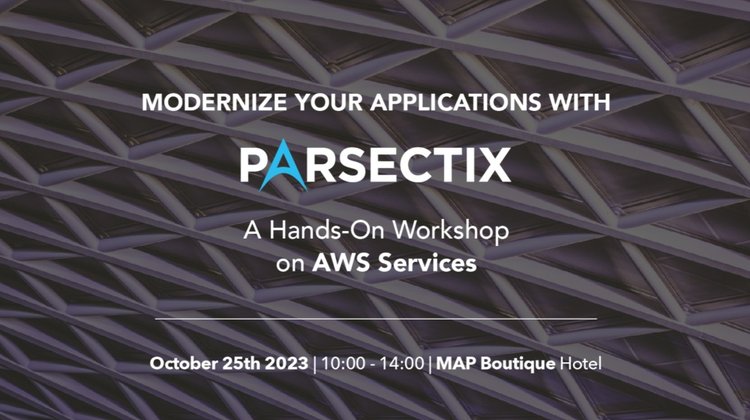 Parsectix, a professional services consultancy in the fields of DevOps, Continuous Delivery, and Pragmatic Agile methodologies, is organising a hands-on workshop in collaboration with Amazon Web Services (AWS).
Scheduled to take place on 25 October from 10:00 to 14:00, the event will be hosted at the MAP Boutique Hotel in Nicosia.
The workshop is designed to provide attendees with the essential skills and knowledge to modernise their applications using AWS ECS (Elastic Container Service) and containers. This event is particularly beneficial for those interested in hands-on experience with cloud-native technologies, whether they are developers, cloud engineers, DevOps specialists, infrastructure administrators, or IT professionals. The session is set at an intermediate proficiency level, and a basic understanding of cloud technologies and software development is recommended for participants.
Agenda:
09:30: Event Registration
10:00: Opening Presentations by AWS & Parsectix
10:30: Hands-On Workshop
12:30: Q&A + Next Steps
12:45: Voice of the Customer – Customer Success Stories
13:00: Lunch and Networking
14:00: Event Closing
Attendees can expect to walk away with a comprehensive understanding of how AWS services like ECS, ALB, ACM, and IAM work together to build robust and scalable cloud architectures. They will also gain technical skills to optimise application performance, security, and manageability, as well as business insights to improve cost-efficiency and agility in their cloud strategy.
Featured speakers for the event include Istvan Kranicz, Partner Sales Manager at Amazon Web Services, and Pavlos Kleanthous, Founder and Managing Director of Parsectix.
"Don't miss this unique opportunity to modernize your applications and boost operational efficiency," the company said in a press release.
To secure a spot, register on the Parsectix AWS Event website: https://events.parsectix.com/aws-event-25-10