Why Multimarine Group is going from shipyards to renewable energy projects
Adonis Adoni 07:14 - 16 October 2023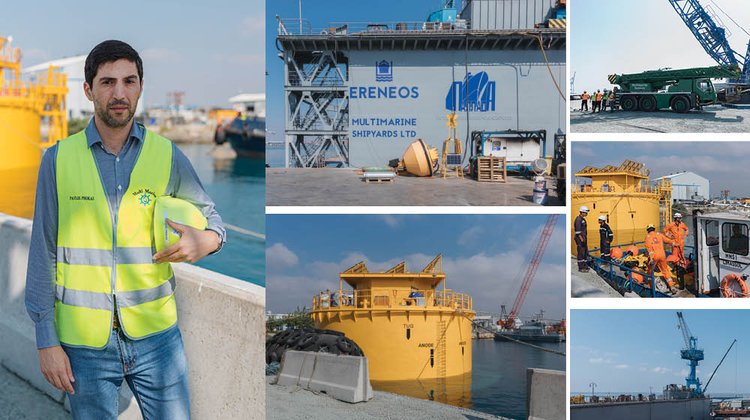 From its humble origins two decades ago, the Multimarine Group has evolved into a renowned provider of shipyard services and ship repairs.
Here, Commercial Director Pavlos Phokas discusses the Group's recent strategic expansion abroad and explains why he believes that the future is the renewable energy sector.
Over the last 20 years, your company has grown into one of the most reliable providers of all forms of shipyard services and ship repairs in the Eastern Mediterranean region, as well as engineering services, both onshore and offshore. How did the company start? What are the main reasons for its success?
Multimarine Services was founded in 2001 by my parents who combined their respective expertise in their line of business. My father, Renos, carried more than 20 years of vessel dry-docking and ship repairs experience, and my mother, Julia, was already an established entrepreneur running her own civil construction company and was the first woman civil engineer registered in the Limassol Civil Contractor Association. Starting as a small company completing afloat repair projects at the Limassol, Larnaca and Vassiliko ports, we gradually grew due to our passion, professionalism, swift responses, on-time delivery and high-quality work, and today, we are proudly a well-established Group of Companies in the marine and energy sectors with more than 150 employees. Our success rests on our honesty, strong vision and skilled professionals. As a family business, we value healthy relationships and most of our team members have grown with the company. Steered by our determined management and staff, this approach has drawn repeated local and international clients from multiple industries such as Marine, Energy, Renewables, and Construction. Actively pursuing global reach, we have expanded with offices in Greece and Belgium, with our Limassol Port multimillion-euro investments including an upgraded shipyard infrastructure, a new layby berth, new fabrication workshops, and the island's largest dry dock, the Ereneos floating dock. All the above are complemented by a modern fleet of 13 mobile and crawler cranes (45t to 750t), handling and lifting equipment, a haulage fleet, construction tools, a 5-axle milling machine, fabrication tools and a cargo barge.
High inflationary pressures usually force companies to think twice about their expansion plans and yet, as you have mentioned, you have recently expanded to Belgium and Greece. What was behind this move, given the current macroeconomic environment, and what is its strategic significance to Multimarine Services?
Our diverse services and successful projects have cultivated our expertise in the maritime, renewable and energy industries, leading to our successful expansion to Greece and Belgium. In Greece, we secured a shipping agency and logistics contract for the Gastrade FSRU project in the strategic Port of Alexandroupolis, from where we are executing all pipe handling and vessel agency services for the project's offshore construction phase. In Belgium, we have established a ship repairs workshop for the busy Port of Antwerp, with plans to expand to Rotterdam. Despite high inflation, our market conditions have remained unchanged, and by leveraging economies of scale, we are able to offer competitive services. Moreover, our focus on ESG, safety and quality – methodologies that clients increasingly value – differentiates us from the competition. In these difficult times, only competitive, quality-focused companies will endure.
One of the assurances given at the time of the commercialisation of the island's ports was that tariffs would either be reduced or left the same. In fact, they have skyrocketed, in some cases up to 70%. How has this affected the company and how, in your view, should these extra costs be dealt with?
Indeed, since the Limassol Port's commercialisation, most port tariffs have increased significantly, affecting all port users' competitiveness. Obviously, high costs can deter ship owners – who always draw comparisons with regional ports – from choosing Cyprus for repairs and other related services. In addition, land rental costs in Cyprus Ports Authority-managed areas have risen. As Multimarine, we are discussing with the Port operators to get better rates for our clients where possible. As a company, we have never objected to justifiable tariffs that reflect specific services. However, we cannot accept unreasonable increases in costs and charges that are unjustifiable and unconnected to a provided service.
What other changes would you like to see in local port infrastructure, which would enable companies like Multimarine Services to grow their business?
The existing port infrastructure hinders the expansion of our shipyard services. For example, we want to expand our facilities to attract larger vessels for repairs, which could significantly benefit the local economy. Moreover, we aspire to fabricate complicated structures on a bigger scale for the energy and renewables industries. The problem lies in the concession agreements, which failed to consider industry advancements or emerging sectors, impeding the development of new industries. While international interest exists, the current port infrastructure, capacity and regulatory framework hinder progress, limiting interest in new investments in Cyprus. Inevitably, we're forced to explore more accommodating regional locations and port facilities to meet this high demand.
As a company that has been heavily involved in energy projects in the Eastern Mediterranean region, do you see an opportunity to establish the provision of services for renewable energy projects as a major new pillar of the Cyprus economy?
Multimarine has long advocated for Cyprus' importance in the regional energy sector and the associated substantial benefits to the local economy. Over the years, we've witnessed the positive impact of Eastern Mediterranean energy projects on Cyprus. And with the global transition from fossil fuels to renewables, we firmly believe that Cyprus stands poised to have a key role. Multimarine is already involved in the emerging offshore wind industry, as demonstrated by our recent fabrication project for a French offshore development. At the same time, we're involved in green hydrogen and power supply projects for the maritime sector. However, while Cyprus can be a major hub in these markets, given its strategic location and the high-quality services offered, we must first collectively resolve the issues that stand in the way.
Let's take a step back: From a personal standpoint, how did you become involved in the business?
After my studies in London, I moved to Aberdeen, Europe's oil capital, for work. I was lucky to launch my career via a graduate development programme with an international construction company. This experience exposed me to onshore and offshore North Sea projects and, understanding what international oil and gas contractors seek in subcontractors like Multimarine, I tried to integrate those insights into our operations upon returning to Cyprus in 2010.
With your father at the helm of Multimarine Services, did you ever feel pressure to work harder than non-family members to establish yourself within the company?
While challenges abound, you have a strong sense of ownership in everything you do. I feel extremely fortunate to have both my parents as my mentors. They are always open to new ideas, their strong principles and ethics shaping Multimarine's approach since day one and these principles are still visible in our operations today. I am sure that these sentiments resonate with many of our team members.
Shipping and Oil & Gas companies, which make up a large portion of your clientele, are under constant regulatory pressure to curb their carbon footprint. Has that pressure spilt over into Multimarine Services? If so, can you shed some light on the sustainability practices that you have adopted?
This unprecedented trend, led by energy and shipping majors, to curb shipping's carbon footprint manifests as investments in fleet decarbonisation, green energy projects and stricter ESG criteria in tenders and contracts. As service providers, we recognise our pivotal role and strive to be role models. We're closely tracking developments and have implemented several visible measures, including the environmentally friendly construction of our Ereneos Floating Dock and implementing a government-approved Operational Environmental Management Plan (OEMP). Moreover, photovoltaic installation plans for our workshop rooftops are underway, pending the grid port upgrades. We are also actively involved in Horizon Europe projects, partnering with local universities to foster maritime decarbonisation and green initiatives, and together with our advisors, we're consolidating our sustainability efforts into a comprehensive ESG plan that aligns with international best practices and regulations.
Can you elaborate on Multimarine's role in the Vassiliko Floating Storage Regasification Unit (FSRU) project?
are in a joint venture with the Greek marine contractor Spanopoulos securing the award and currently undertaking the offshore jetty construction for the LNG Receiving and Regasification Terminal, where the FSRU vessel ETYFA Promytheas will be moored alongside. This is a vital energy infrastructure project for Cyprus, which demands multiple resources and facilities, and we are extremely proud of our role.
A company's culture often shapes its trajectory. What would you say are the core values and guiding principles that define Multimarine Services' organisational culture?
Our culture centres on how we do business and the enduring relationships we forge with clients, suppliers, associates, stakeholders and employees. It is guided by environmental respect, cutting-edge high-quality services and safety for all. Nurturing this culture hinges on having individuals who embrace the management's vision, and I believe we have a talented, motivated team that consistently makes us proud.
Can you tell us more about the company's training initiatives that enable your team to embrace emerging technologies?
As already mentioned, we've made multimillion-euro investments in new technologies, machinery, equipment and other assets, enhancing Multimarine's capacity for new shipyard and fabrication projects. But to fully capitalise on these investments, comprehensive training is crucial. This spans trade-specific training for HSE, NDT inspectors, fitters, welders, mechanics and electricians, to name a few. Additionally, we prioritise training in crucial areas like cybersecurity, ethics and business conduct.
Finally, what's next for the company? Are you looking to expand into even more jurisdictions or add new service lines to your offering?
We aim to leverage our expertise, diverse project history and reputation to venture into new strategic locations. Given the port infrastructure in Cyprus and regulatory limitations stemming from the current concession agreements, we must explore options abroad. Regarding new service areas, we're strategically expanding into offshore wind energy and are deeply engaged in renewable energy projects involving green hydrogen and maritime green power supply. We believe the renewable energy sector is the future and are excited to participate in this evolving industry.
(Photos by Giorgos Charal)
This interview first appeared in the September edition of GOLD magazine. Click here to view it.