AWS' Nandini Ramani: The benefits of cloud technology are vast and immense
07:14 - 14 October 2023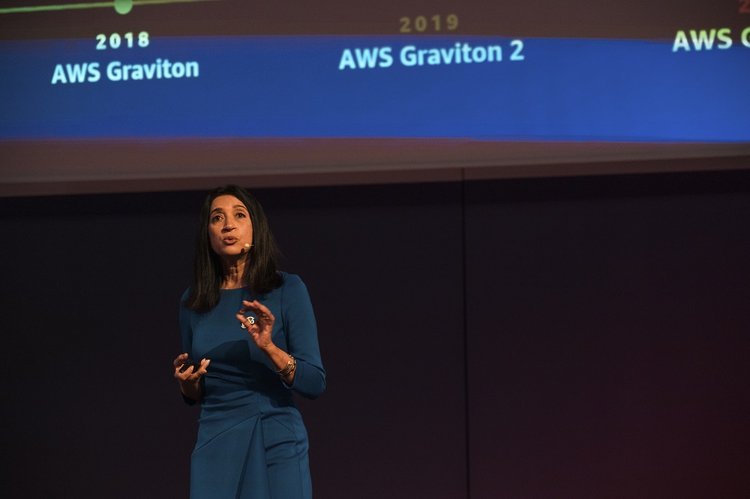 Speaking to InBusinessNews journalist Marios Roussos at the recent AWS Cloud Day Athens, Nandini Ramani, Vice President, Amazon Web Services (AWS) talked about how the region, from startups to governments, is embracing cloud technology.
Among other things, Ramani, who was a keynote speaker at the event, also shared her personal experience with the medium and explained how AWS offered significant support to users of its ever-expanding array of products and services.
With career experience including Vice Presidencies at both Twitter (now X) and Oracle among many other professional achievements, Ramani's interview with Marios Roussos can be read below:
Can you tell us more about yourself and your role at AWS?
I have been with ΑWS for about two and a half years. I'm responsible for all the monitoring and observability services, which includes our flagship product, CloudWatch, (Amazon) Managed Service for Prometheus, Grafana (AMG), and a bunch of other services.
What is your experience so far of Cyprus and Greece?
So far it has been amazing to me. I've visited many islands in Greece and this general neighbourhood, but always for vacations. This is my first time seeing the startup communities. They are super impressive. They have lots of interesting, innovative, entrepreneurial efforts. And today we met the Minister (Greek Labour Minister Adonis Georgiadis) and he was also talking about how they are fostering a culture of innovation. And today's keynote, was packed.
I noticed some logos from Cypriot companies in your presentation earlier. Have you had any feedback from your customers in Greece and Cyprus regarding what they are seeking or require from AWS?
My understanding so far, from everything we've seen, is that they seem to be happy. There's a lot of excitement. We have over 200 services at AWS so I think we have an abundance of services for them to try and use for various kinds of computing, storage etcetera. The main one is the big general availability of (Amazon) Bedrock and the ability to leverage Generative AI. There's a lot of interest and people are starting to look at it, play with it, so that's a theme I found from talking to everybody. They are all early in their journey but definitely eager to try it.
How can companies, no matter their size or level, benefit from using AWS services, and in what fields?
Honestly, our (products and services) ranges are for every market segment, every industry vertical. We support all of it. If you walk down the floors, you will see healthcare, fintech, media and entertainment. We cover the gamut and even with IoT, and now we're working on quantum technologies, to help basically any verticals and, most importantly, customers of all sizes. Even my own services, I have small startups all the way to (big ones). I grew up before cloud, working as an engineer and in those days, we had to take the lamp stack and build things and we had Oracle boxes and now when I think about how easy it is. Even during the pandemic lockdown, people were coming up with easy startup ideas all across Europe easily because of the cloud. You can just create an EC2 instance, put up a webpage, run a few Lambda functions and you're off to the races. So I do believe the cloud has really democratised - Anybody with good ideas can convert those into reality.
There is a long list of products and services provided by AWS. What else can your collaborators anticipate? Is there anything specific for Greece or Cyprus?
Most of it is global, but we also have multiple regions. We're trying to make it easier with our multiple availability zones and 31 regions that we support worldwide. So I think we do take care of all our customers across the globe equally. And now, this is the first time I believe we've done the Cloud Days here, so. There's certainly a lot of interest in this area in particular which is refreshing to see. And also the government is interested. There's so much fostering, which is always helpful.
For someone who wants to work with AWS, what are the main digital and cloud skills that need to be focused on?
We offer a lot of training courses that are online and we have blogs, that are easy to use, and we offer to our customers training programmes. So we make it very simple for you to on-board. We also have service teams that can help you, we have solution architects, account teams. Everybody's here to really focus and help you to figure it out because, as you come into the cloud, people are in various stages of their journey in the cloud, right. Some of them are moving from mainframes to cloud. Some of them are early startups that are moving. So your needs might be different based on what phase you are in your journey. So we offer a lot of training programmes, we have field teams that are helpful to customers so they can choose the right configuration of compute, storage, databases and et cetera, et cetera.
So any level can jump in?
Yes, exactly. When I was writing code, ETL (Extract, transform, load), was a thing, we all had to do it. I was moving my data all over the place and it's heavy, it's maintenance. It's a lot of things to deal with every release. Today, we're making it easier and easier, so it's transparent to you as the end user and you can just use all of our services trivially. Even so, yes, we offer programmes not just for the existing 200 plus services but also for use of Bedrock and Titan and how to use all of these new services that are coming up.
What's your message for the customers, for the businesses and also the governments that want to use AWS services?
The pace of innovation these days is so rapid. Just this last year, things have gotten so much easier. I would encourage everyone to support and move your applications and workloads to the cloud. At the end of the day, businesses want to focus on what their benefit is to their end customers. Not everybody needs to maintain an infrastructure, build all this equipment and infrastructure -you need cooling and power. You don't really gain anything from those. So, where possible, you want the most reliable, most resilient, most secure, and compliant because governance laws are so different. And at AWS we support all of that holistically, globally. And so, I would encourage all companies to give it a try. It makes it so much easier and you can innovate so much faster and put your ideas in customers' hands very trivially when you migrate to the cloud. It reduces costs and there is low latency cost, high performance, all of those things for all those reasons. Especially as somebody who existed pre-cloud days, I can tell you the benefits are vast and immense, especially with the AWS Cloud.
Click here to read Marios Roussos' original article, in Greek.