Ambassador Anolik: "The situation in Israel and in Gaza has strategically changed"
10:02 - 12 October 2023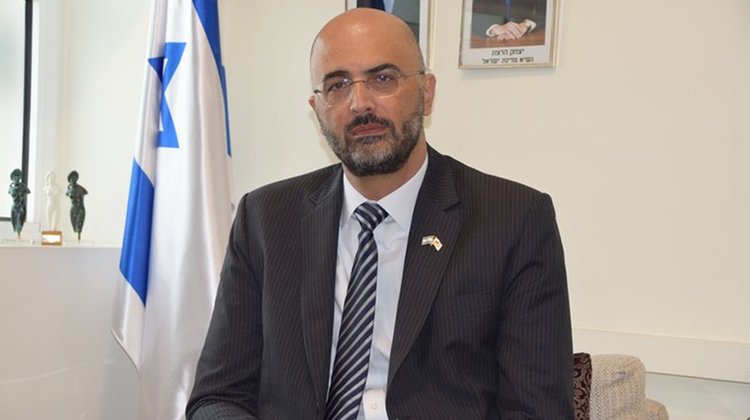 "We are in a state of war. This is a situation, a war that was forced upon us by those terrorists. Israel is a very powerful country and, even though we are not happy about it, we will fight," Israel's Ambassador to Cyprus, Oren Anolik, has said.
Anolik recently gave an exclusive interview to Greek-language news portal Reporter, which, like CBN is part of IMH. Here CBN takes a closer look at the Ambassador's discussion with Reporter journalist Michaella Loizou:
"Israel was viciously and brutally attacked. The kind of images that came out of Israel were of the kind that we never thought we would see in our lives," Anolik said, going on to describe the events at the Supernova Festival.
"These people were dancing. And the pickup trucks showed up there and it was as if they were hunting. They were butchering people. From this party alone, they collected 260 bodies of people who were not armed, they had no weapons. They came to dance. Every human being understands this is completely wrong. This is not something human beings do to each other. There are horrible stories about families, about children. Taking children as hostages into Gaza. Why? What is the purpose?" he continued.
The Ambassador stressed, "The situation in Israel and in Gaza has strategically changed…This is not the same."
He continued that the horrors of the last days would not be forgotten and the situation could not be allowed to continue. "We will do what we need to do to make sure this doesn't happen. There will be casualties on both sides. But we are now left with no other option," Anolik explained.
The Ambassadora also said that Israel was aware of the solidarity and sympathy from others, noting that, in Hamas' actions, people around the world had been reminded of the actions of ISIS and Al-Qaeda. "These are the same people, the same strategies, the same tactics, the same ideology. This is why we need to fight and we will fight," he said.
The Ambassador suggested that Hamas's endgame was simple, "You just need to read the Hamas charter. It says it very clearly. They want an Islamic Palestinian state everywhere between the Mediterranean and the Jordan River. And they want all the Jews to be either dead or out of the place. It's very simple. They don't talk about peace; they don't talk about compromise. Nothing. They want the annihilation, the destruction of the state of Israel, and getting rid of all of the Jews. This is their endgame."
According to Anolik, the Iranian regime is also heavily involved in what happens around Israel and the broader Middle East.
"It's part of a clear ideology, of exporting the Islamic revolution, so they are assisting all of their proxies. If it is Hamas or Islamic Jihad in the Palestinian territories, if it is the Houthi in Yemen, if it's Hezbollah, if it's other organisations, this is what they are doing. They are supplying all the proxies with weapons and arms, with funds, guidance, know-how, they inspire them. They do whatever they can to make sure that what they want will happen. Were they specifically involved in the planning of this specific attack? I do not know. I am not really equipped to say yes or no. But does this totally fit into what they want to see happen? Absolutely. You can see the response of the leadership of Iran that is rejoicing over the slaughtering of innocent people," he said.
The Ambassador also underlined that the state did not consider the entire population of Gaza to be the enemy of Israel.
"We know that there are plenty of innocent civilians who are not supportive of Hamas and did not want to see this happening. Nevertheless, the authority that has effective control over Gaza is Hamas. They are in control. And they are not making any distinction. For them, their own people are just pawns in the game. They don't care about their lives, they don't care about their well-being, they don't care about the situation. Simply, they do not care about their own people. They are much more interested in killing Israelis than making sure their own people have better lives," he said.
This meant that Israel could not be expected to continue to supply electricity, water, or fuel to the area, he said, suggesting that the people living there also consider what Hamas had actually done to improve their lives since taking power in the area in 2007.
"It's 16 years that Hamas is in power," Anolik said, "What did it do to improve the lives of its own people? How much did it invest in giving them better lives? And how much did it invest to kill Israelis? Hamas needs to be addressed in this regard. It needs to give answers." He said that innocent civilians will pay heavy prices, "which I am not happy about at all." "But this is the time that we need to make it very clear to everybody what is the price that needs to be paid for what has happened. There is going to be a very serious price," he continued.
On support for Israel from the international community, including Cyprus, the Ambassador said that he had been overwhelmed by the response.
"It is not just because we have a good relationship between Israel and Cyprus. Every human being that sees this and doesn't feel compassion, doesn't have a heart. Cypriots have hearts and they understand what they are seeing," Anolik said, before expressing concern over antisemitism growing around the world.
"Moral support is important in these dark times. This for us is a beacon of light that is highly appreciated not just by the Embassy, but by the people of Israel," he continued, in connection to Cyprus' support of Israel. "I would like to encourage Cypriots to continue doing this. It gives us a lot of encouragement. Every gesture of support the Cypriots want to offer will be welcomed by Israel," he added.
"We have several agreements and memorandums of understanding signed between Israel and Cyprus that speak about different ways and possibilities of cooperation in case of emergency. It can be the medical field for example, it can be in infrastructure. I don't know now what will happen, but I can say there is a lot of good will on the part of the Cypriot government and I am sure that whenever we come with any specific request, I have no doubt that we will get a positive response," Anolik also noted.
He underlined that he did not believe the current situation would affect the long-term cooperation between Israel and Cyprus, "We have ongoing negotiations on several issues regarding energy. Perhaps for a while they need to pause because of the situation, but I do not see a strategic change in this regard."
On regional balances, meanwhile, Anolik said, "There are some things that seem to me that for sure will continue. We have very good relationships now with several of the moderate Arab states. I think these relations are strategic and are based on interests. So I don't think these are changing."